North Cornwall - A walk on the wild side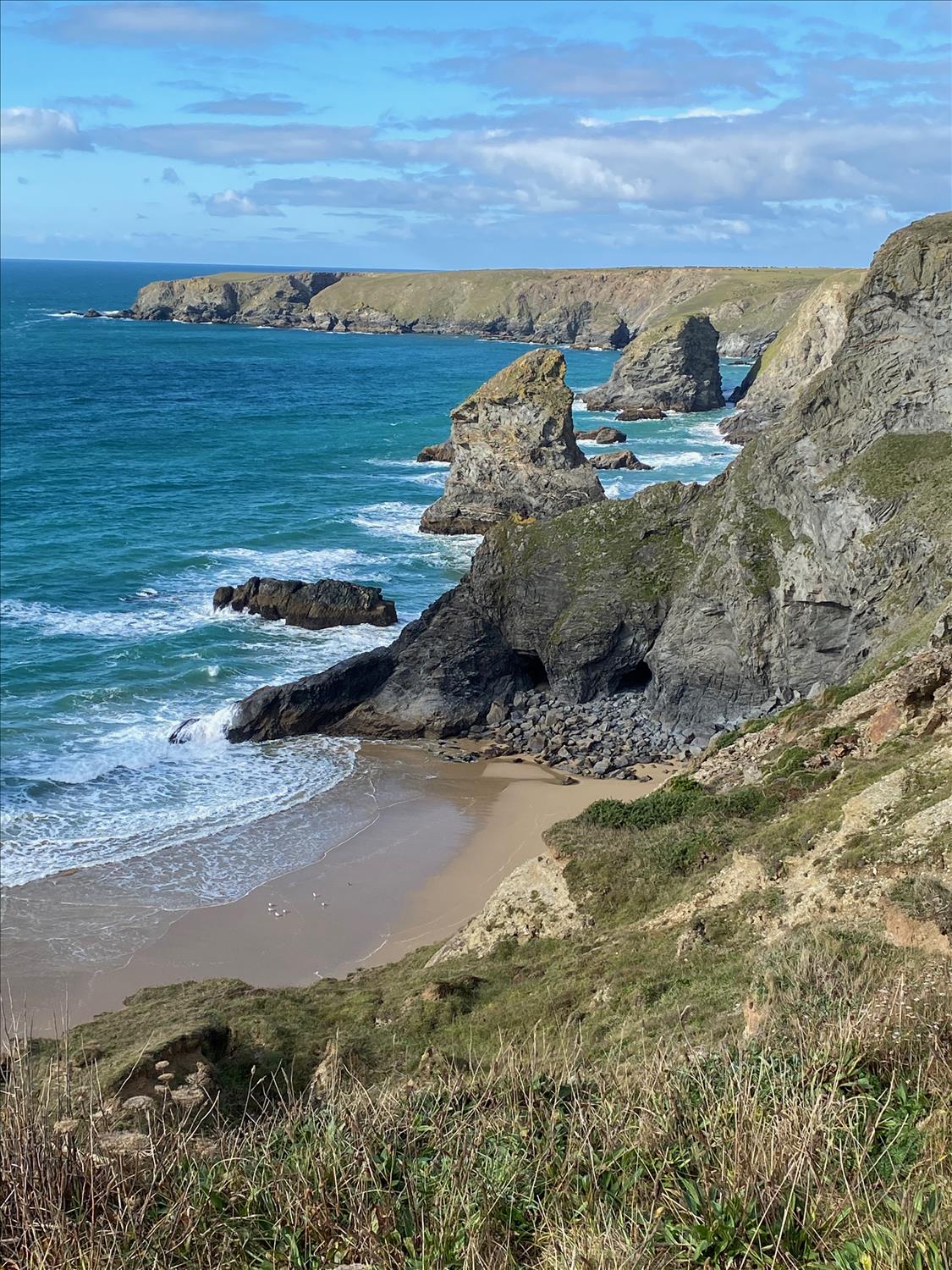 This article proves without a shadow of a doubt that North Cornwall contains some of the best walks in the country. If you are fed up with dark nights and miserable weather and are considering where to go on your Spring walking holiday, then this article will persuade you to lace up your walking boots and head for Boscastle.
You're a walker. You fancy shaking off the long dark nights of Winter and organising a Spring break. You want to get some early season miles in. The question is, where should you go?
If you like your walks on the wild side, with breathless ascents up cliff-hugging trails and craggy summits on windswept moors, North Cornwall is for you.
If you hanker for more sedate walks, with calves and lambs keeping you company as you meander with a river or circumnavigate a lake, North Cornwall is for you.
And if the highlight of your ambling ambition is to get to the tasty lunchtime bite and locally brewed beverage, North Cornwall is for you too.
In short, if you love walking, you will love Cornwall. It really is that simple.
This blog draws your attention to the incredible array of walks that the spectacular Cornish Atlantic coast and the moors and valleys of the north of our beautiful county have to offer.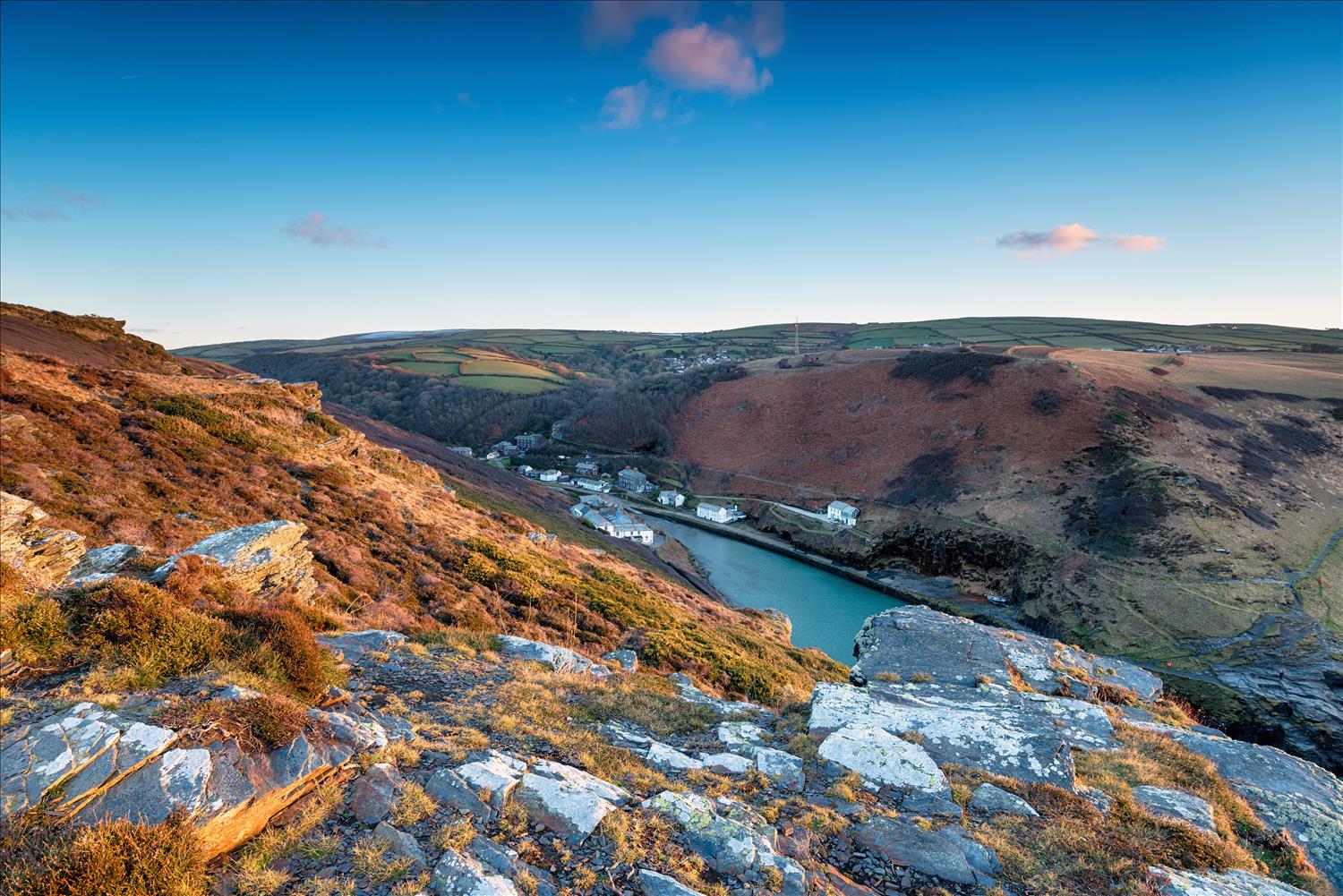 Cards on the table time. I am writing this article as a shameless attempt to persuade you to take your next walking holiday at Polrunny Farm. Polrunny is a 13-acre rural idyll with sea views, up in the hills above Boscastle.
This blog will showcase walks in, around and easily accessible from Boscastle. Boscastle really is the most fantastic walking base.
"You would say that, wouldn't you," I hear you say, "you own holiday cottages there."
Good point well made. It's true that I'm biased but being biased doesn't mean I'm wrong. Cornish people aren't objective when they say their pasties are the best in the world. Their pasties are the best in the world. People with a bias can be right.
Right, now we have got that sorted, the final bit of admin I need to do before I get into the detail is to set out my walking credentials. Before you start taking my words seriously, you will probably want to form a view as to whether I know what I'm talking about.
Points in my favour on my walking CV include that I know how to put one foot in front of the other. I love doing so too, especially in an environment as awe-inspiring as the area of outstanding natural beauty in and around our Boscastle holiday cottages.
Another walking credential is that I do own a decent pair of walking boots. This shows at least a basic level of commitment to the cause.
The purists amongst you should know though that I am no Alfred Wainwright. I'm no Hugh Munro. I'm not even a Julia Bradbury (who eulogised about the North Cornish coast in a recent television series). Waterproof trousers haven't ever graced my shopping basket. I absolutely hate faffing around with fiddly folded maps. And I haven't touched a compass since being stabbed with one in a third-year maths lesson. (Yes, I know…)
If you are still with me after weighing up the balanced scorecard of my walking have's and have not's, then great, let's lace up those boots, strap on our backpacks and get this show on the road.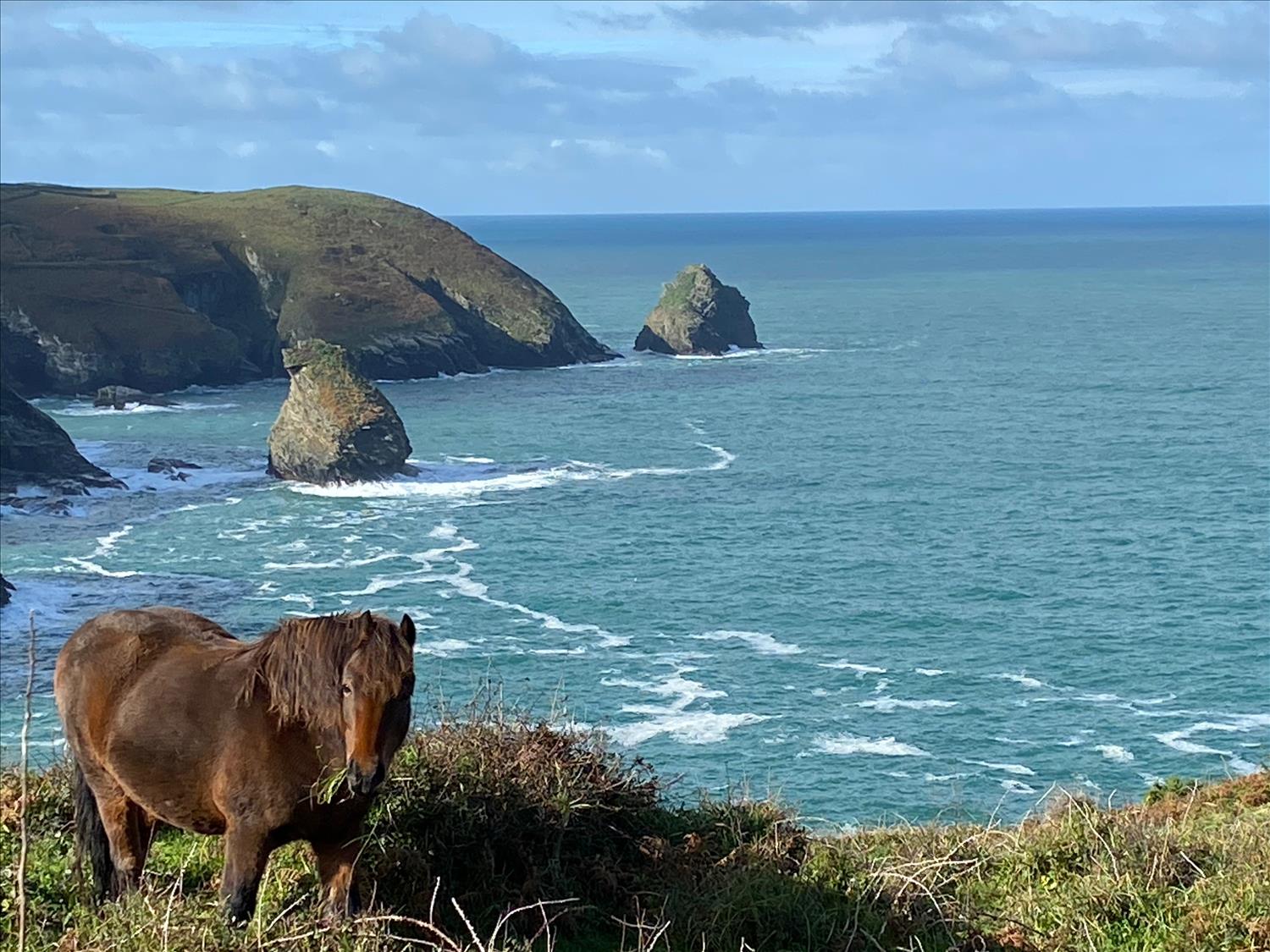 We'll start our Boscastle walking holiday with few hikes along the South West Coast Path. Then we'll do some flat walks before finally mustering up the energy to tackle Rough Tor and other notable destinations on Bodmin Moor.
At 630 miles long, the South West Coast Path is the longest waymarked footpath in the country. The 40-mile section from Bude to Padstow, with Boscastle at its centre, contains some of the most stunning walks you will find anywhere in the UK. This section alone could keep even the most energetic walker busy for a week.
Highlights on this stretch of the coastal path include hidden coves such as The Strangles and Bossiney; the highest cliff in Cornwall, aptly named High Cliff; King Arthur's Tintagel Castle; picturesque villages such as Doc Martin's Port Isaac; spectacular Widemouth Bay and other surfing beaches; and the serene views and sand dunes of the Camel Estuary in and around Rock and Padstow.
You have lots of options as to where you start and finish your walks from. The obvious starting points would be a walk from Polrunny Farm down the hill into Boscastle, then turning either left at the sea (that's south west) to Tintagel; or right (north east) to Crackington Haven.
The walk from Boscastle to Tintagel along the cliff edge, with the frothing Atlantic gauging on rocky outcrops to your right, and farm animals and rolling hills to your left, is consistently rated as one of the top five walks in Cornwall. The above picture was taken whilst on that walk.
From our doorstep it's about a seven-mile walk. It's not the distance but the ups and downs that will get you though.
Most people that take on this hike will combine it with a trip to the ruins of Tintagel Castle. The bridge crossing to Tintagel island is worth the National Trust admission price on its own.
In Tintagel, indulging in a pasty and a pint whilst your weary legs recover, you have a choice to consider. Lesser mortals like myself will order another round before hopping on the 95 bus back to Boscastle.
Those that take the walkers' equivalent of Viagra (Kendall mint cakes?) may well choose to turn the Boscastle to Tintagel walk into a circular mission, navigating the various public footpaths that run past the lovely St Nectan's Glen waterfall, through the Valency Valley and back to Boscastle.
If you enjoy the excursion from Boscastle to Tintagel and want to venture further south west along the coastal path, then the following day you could tackle the Tintagel to Port Isaac stretch. Your chosen fitness app will nigh-on self-combust as it counts the number of floors you gain as you negotiate the deep and steep Trebarwith valley.
Alternatively, the portion from Port Isaac to Padstow is equally stunning and a tad flatter. This 12-mile stretch takes you into the Camel Estuary via Port Quin (see the photo below), Polzeath, to Daymer Bay, Rock and to finally to Padstow via a short hop on the small estuary ferry. If you start early and keep your pace up on that walk, you'll get to Padstow in time for a Rick Stein-inspired fish and chip lunch.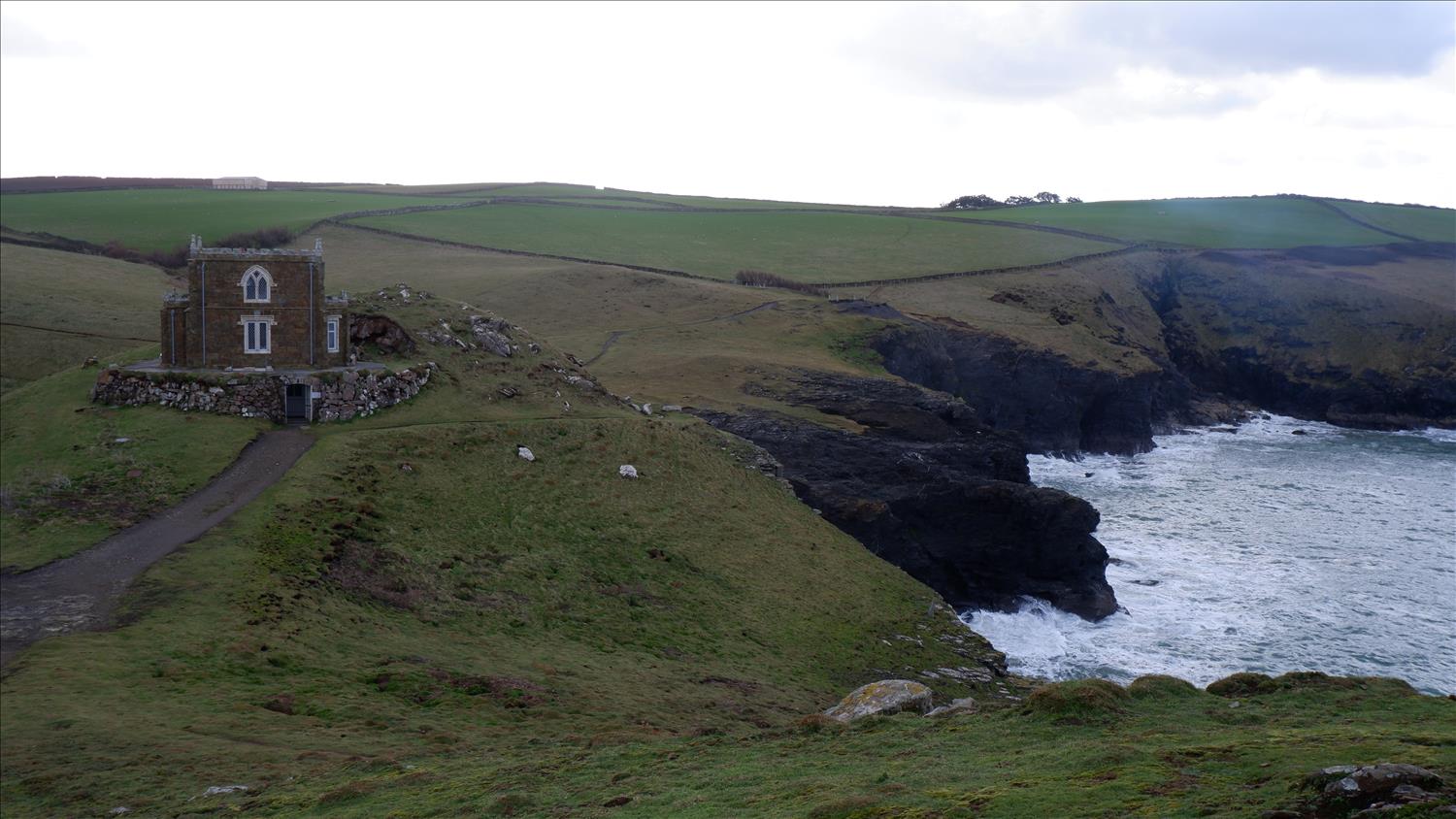 Ok, so that's the walk South West covered off.
The walk North East is equally spectacular. On the Boscastle to Crackington Haven section is a good day's walk for us mere mortals. On it, you pass such sights as the Boscastle's Blowhole and The Strangles.
After an excellent spot of lunch in the Coombe Barton, Crackington, you again have the option of either getting the bus home or extending your walk, to either Widemouth Bay or even Bude. The 95 bus runs along the whole of this route so letting the wheels on the bus go round and round is an option from any of these finishing points.
Personally, I absolutely love the South West Coast Path. The views are awe-inspiring, and the bonus is that, with the basic rule that you follow the sea, even I, a self-confessed cartophobe (think fiddly folded maps), can follow the route.
I don't know about you but after the rugged ascents and Atlantic winds of the coastal path, I'm ready for a bit of respite. Let's now turn to the plenty of calmer and flatter walks to be enjoyed in our local area. Some of these walks can be started from the doorstep of our Polrunny Farm holiday cottages.
This is where I introduce you to the delights of the iWalk Cornwall app. Up front I should confirm that my appreciation for this app is genuine and that I am not receiving any payment or other recompense for singing the praises of this brilliant resource.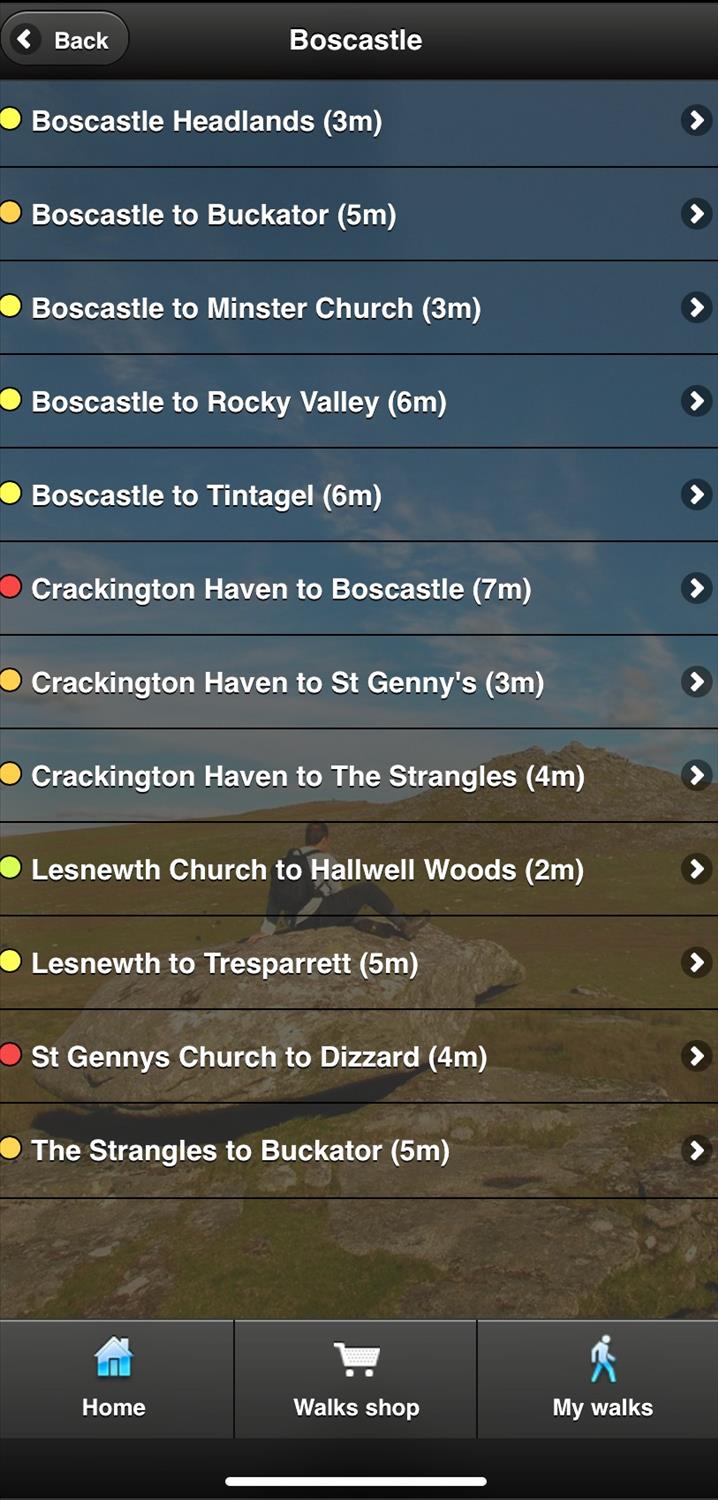 iWalk Cornwall was started by two brothers who seem to be as passionate about Cornwall as I am. The app contains more than 250 walks within Cornwall, most of which are circular.

When choosing your walk, you can search for a variety of different types, including easy/strenuous hikes; those that are dog-friendly; those with pubs on route; quiet walks and walks that are best in a particular season.
You select your walk, pay £3.99 and download the walk to your phone.
The app will programme your sat nav if need be to get you to the start of a walk. And once you start walking, it will give you step by step instructions, including prompting you through a notification as and when you have a turning to make.
And, particularly useful in deepest Cornwall, so long as you have a phone connection when you download your chosen activity, whether or not your phone loses signal while you're on the walk, you'll still be directed through the walk by the app.
The slight downside of relying on the app is that you must keep your phone handy during your walk. For cartophobes like me though, that's a small price to pay for not having to wrestle with a map.you download the app, you'll quickly be able to see how many walks there are within the Boscastle area. We have completed the peaceful Boscastle to Minster Church walk which follows the Valency River as it wends its way through the valley that envelops Boscastle.

We have also ticked off the Bude Canal and Coast walk, a very flat walk with a lovely lunch spot next to the canal.
Having only recently discovered the app, our next walk will be the Boscastle to Buckator route, a circular walk that takes you along the coastline past the Pentargon waterfall to the seal colony at Buckator, before returning along the Valency valley.
We have now covered the coastal path and some at least partially inland walks in the vicinity of our Cornish cottages. Now we turn our attention to Bodmin Moor.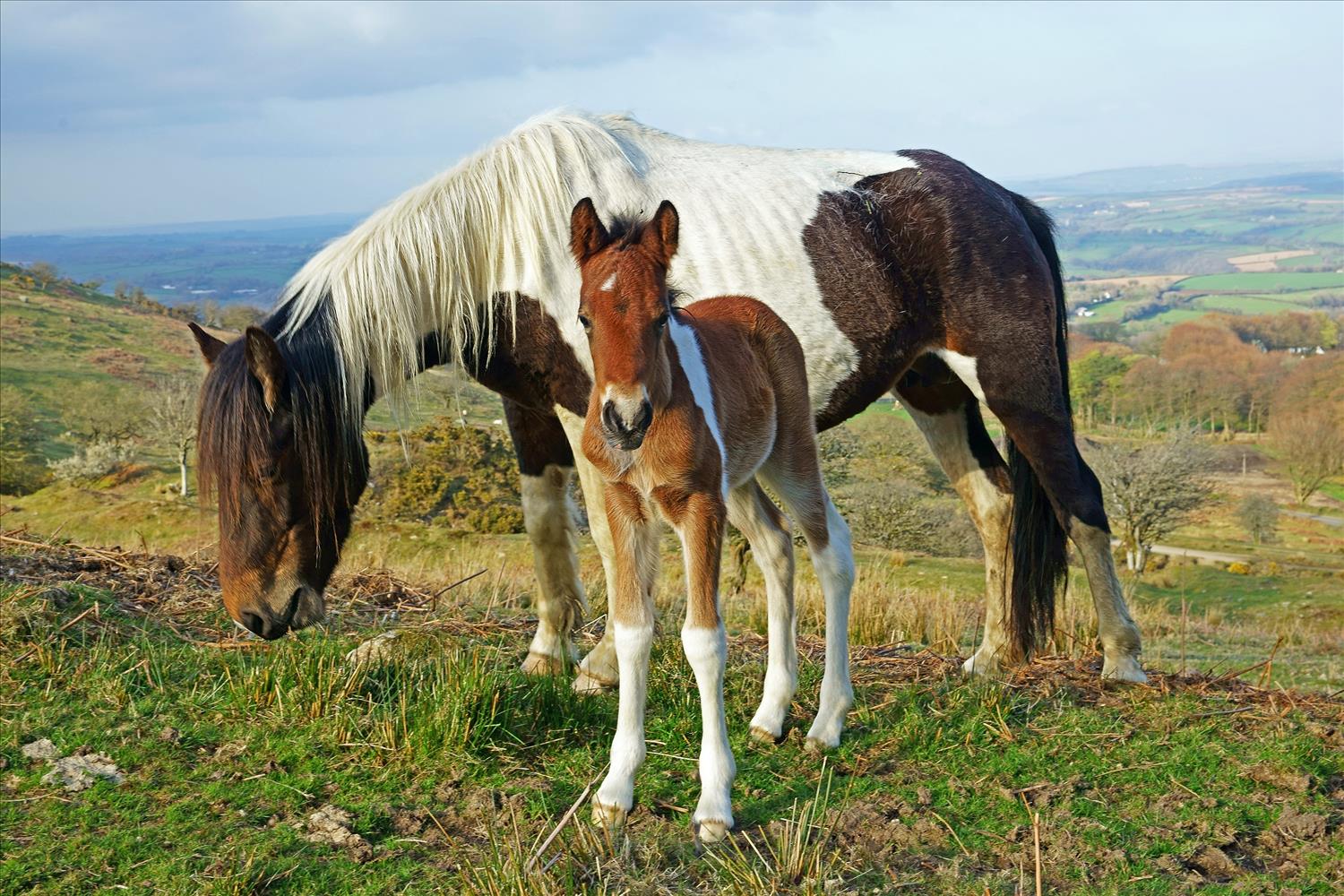 Bodmin Moor is a mere fifteen-minute drive from Polrunny Farm. If you choose to come and stay in one of our holiday cottages, you should absolutely make the trip to this 200-plus square kilometre expanse of granite moorland.
When you visit Bodmin, you will share the Moor with wild ponies and rare breed sheep, with the occasional Kestrel, Cuckoo or even Peregrin Falcon rewarding you with a flypast. The call of the skylark could be the only sound you hear whilst out walking.
Bodmin Moor truly is a mesmerising place.
At 420 metres above sea level, Brown Willy is the highest point in Cornwall. If you're anything like me, you'll be mentally composing your Facebook post days before you pay Brown Willy a visit.
Your Brown Willy walk could easily be combined with a hike up Rough Tor. A detour to the Cheesewring, an iconic natural formation of granite slabs, is also worth the extra effort.
With lots of variations of walks on Bodmin Moor to choose from, should you need help (I certainly do!) then the iWalk Cornwall app can act as your navigator as you wend your way across the Moor.
That brings us to the end of this walking tour of our little patch of paradise.
As you have stuck with this post to this point, I am confident that I have at least sewn a seed in your mind of a forthcoming trip to North Cornwall's Atlantic coast.
It's now down to you. Will you feed and water that seed? Will you come and stay at one of our traditional cottages at Polrunny Farm? And if so, for how long? Will a long weekend be long enough, or do you need a whole week to do justice to the sheer variety of walks on offer?
One thing is for certain, if you come to Boscastle, you won't be disappointed.
If you would like to know more about Polrunny Farm and its traditional Cornish cottages; if you would like to check availability and rates; or if you would like to book online with us, then click the below button.

To stay up to date with what you can expect when you come to Polrunny Farm, and to gain access to exclusive online offers and competitions, all you have to do is join our online email club.