Boscastle best walking holiday in Cornwall - A seven-day itinerary of spectacular walks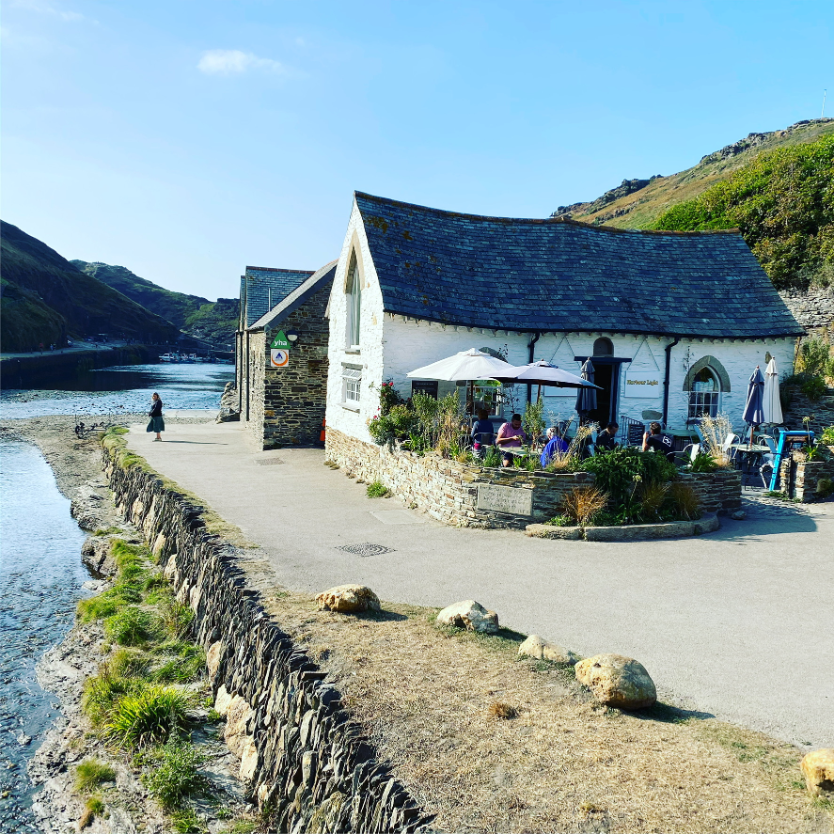 You will be spoilt for choice when it comes to walks to do when you stay at Polrunny Farm Holiday Cottages. By guiding you through a full week's worth of walks, this article shows you that Boscastle, and Polrunny Farm in particular, provides you with the best walking holiday in Cornwall!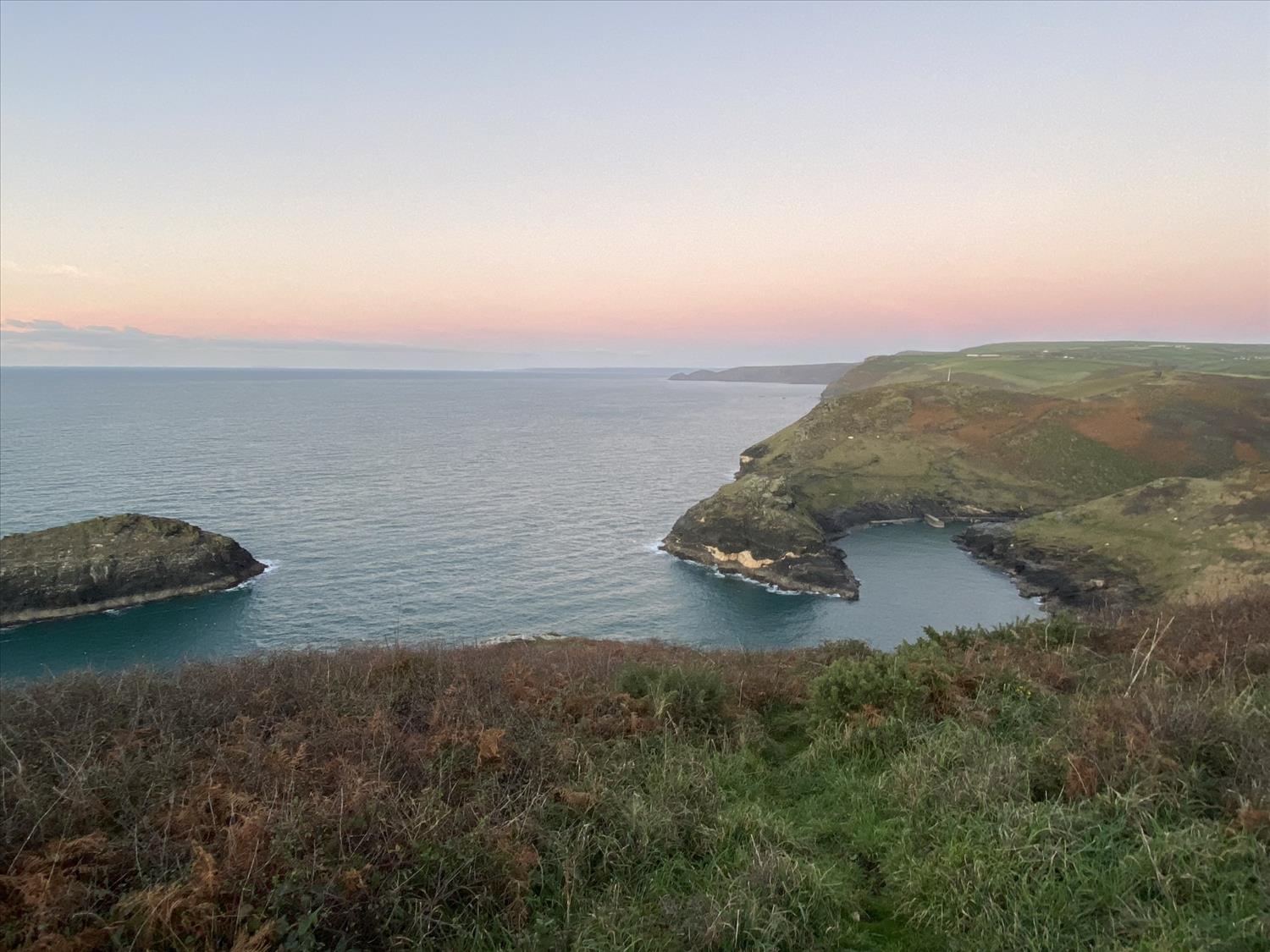 Let's not mess about here or build up to it slowly. Let's just get it out there. Boscastle is the perfect destination for your next walking holiday. Fact.
"Has it got cliff-top walks?" "Oh yes."
"Hidden coves?" "In abundance."
"Exposed moors?" "Absolutely."
"Sheltered valleys?" "They'll take your breath away."
"Bluebell woods?" "The very best."
"Rivers and lakes?" "Of course."
"Quaint villages, with cream teas?" "Tick."
"Mid-walk food stops?" "Er, haven't you heard of the Cornish Pasty?"
"And good pubs to relax in at the end of the walk?" "We're in Cornwall. There will be pubs."
There you have it, Boscastle and the surrounding area has got it all. Stay in Boscastle and you'll have the best walking holiday that Cornwall has to offer.
In case you still need a bit more convincing, this article sets out a sample week-long itinerary for you to follow. If the walks described below don't whet your appetite for a walking holiday in Boscastle, then nothing will.
This article assumes that you'll be staying at Polrunny Farm Holiday Cottages in the hills above Boscastle. But you could stay at any one of Boscastle's fine cottages, hotels or B&Bs and still enjoy these walks.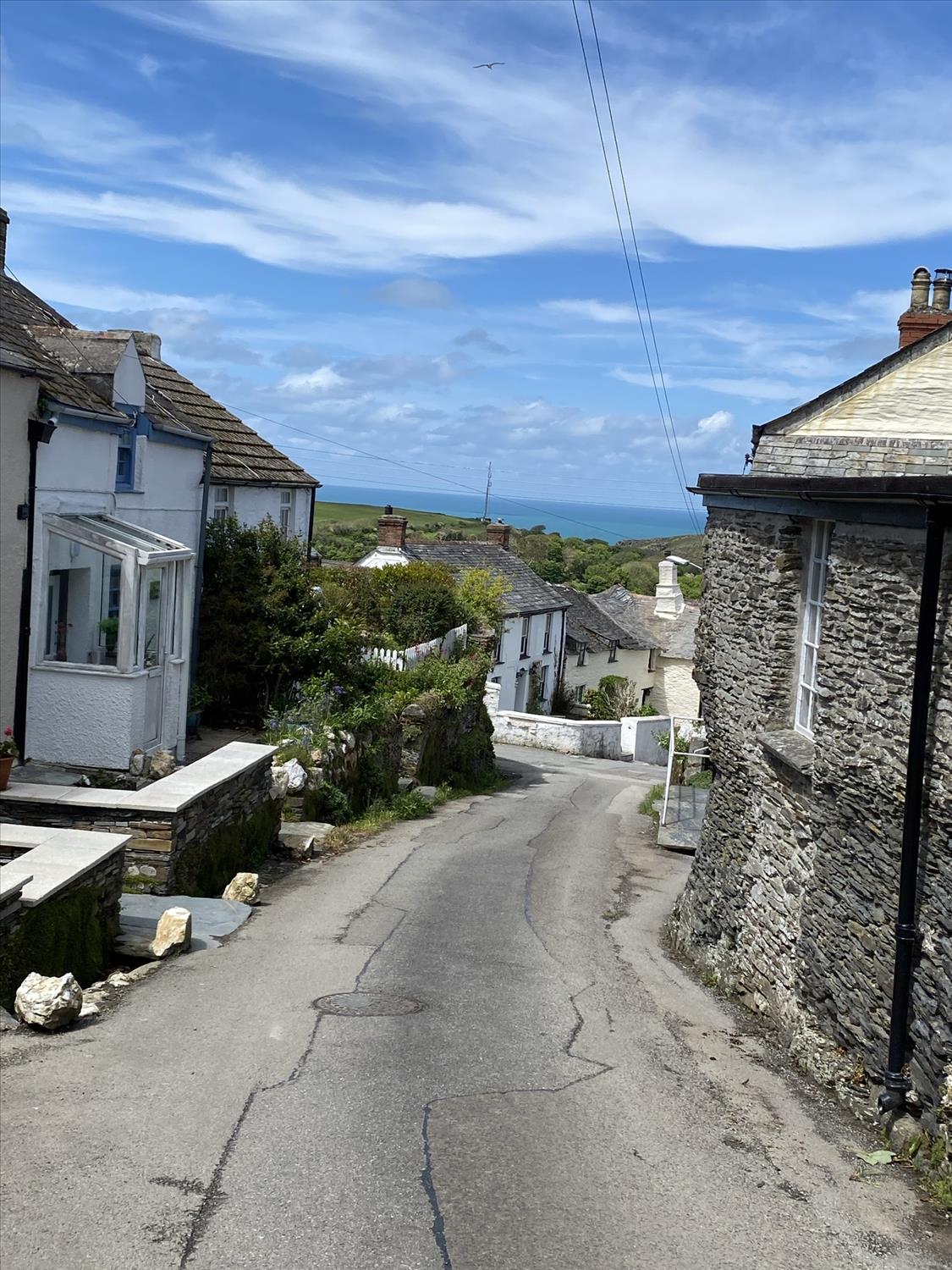 Arrival day – Beautiful Boscastle
Arrive and de-stress from your journey by strolling down our quiet country lane, letting the blue of the Atlantic draw you past higgledy piggledy stone cottages and towards Boscastle Harbour. Maybe grab some lovely fish and chips from Sharon's Plaice and perch on the rocks, in prime position to watch the sun set over the sea beyond the harbour mouth.
By the time you have walked back up the hill, possibly stopping halfway up for a pint in The Napoleon Inn, you'll be ready for a good night's sleep before starting your serious walks the following day.
Day 1 – Boscastle to Tintagel
Walk overview:
7 miles
Coastal walk
Hilly
Start point: Your doorstep at Polrunny Farm
One-way walk. Return via bus / taxi to Boscastle
Put simply, once you have completed this walk, you'll never forget it. It'll be the walk you'll use to judge other walks by. "Was this walk as good as the Boscastle to Tintagel walk?" "Not quite, but it was good nonetheless..."
You don't need a map to follow this walk. Simply amble down the hill into Boscastle, turn left at the sea and follow the South-West Coast Path until you reach Tintagel.
Highlights of this walk:
The views of the entrance to Boscastle Harbour
The wild ponies and Lookout at Willapark
Ladies window rock formation - lovely Atlantic views through this rock archway.
The views up Rocky Valley
Bossiney Cove and Benoath beaches
The pasty in Tintagel Village at the end of the walk!
If you love castle ruins or if you are lured by the lore of King Arthur and Merlyn, you'll want to combine this walk with a visit to Tintagel Castle. You have to pay to cross the spectacular bridge, and booking ahead is always advisable.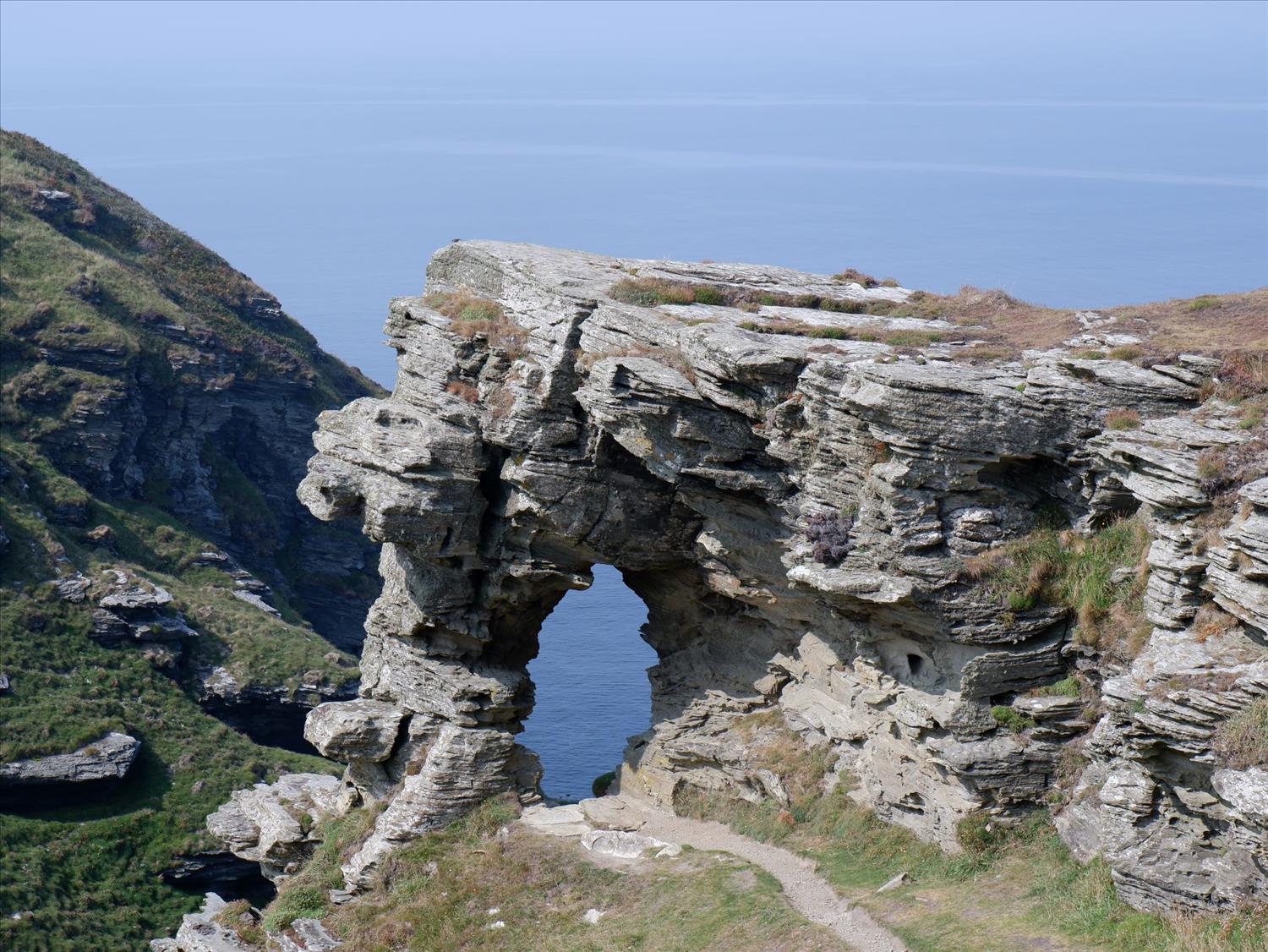 Day 2 – Roughtor and Brown Willy
Walk overview:
5 miles
Inland walk
Hilly
Start point: 20-minute drive to Rough Tor Car Park
Circular walk
A day on Bodmin Moor is a must for those on a walking holiday in North Cornwall. Hikers share this moorland paradise with wild ponies, sheep, cows and a wide variety of moorland birds.
Unlike coastal walks, where you basically follow the sea, walks across Bodmin Moor are harder to navigate. For this reason, we recommend that you download the iWalk Cornwall app and buy the Rough Tor and Brown Willy route (£2.99). That way, you can follow the route on your phone, receiving prompts when you need to change direction.

Highlights of this walk include:
Roughtor – rugged and atmospheric, with panoramic views from the summit
Weather-sculpted granite rock formations, many of which are asking to be climbed
Brown Willy, the highest point in Cornwall
The wild ponies
Spectacular views of the North Cornwall coast
The photographers amongst you might wish to time this walk to incorporate a sun rise or a sun set.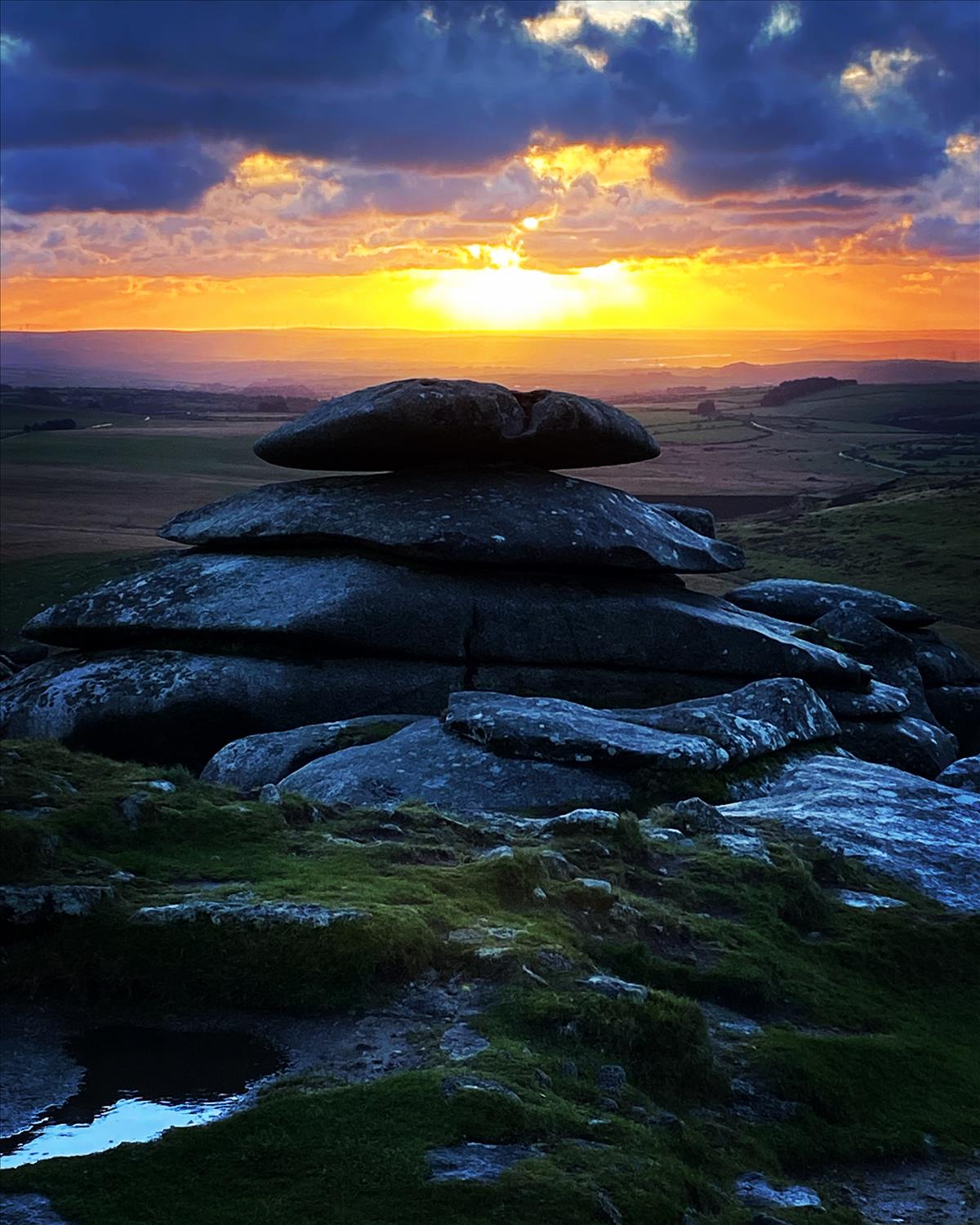 Day 3 – The Valency Valley and Minster Church
Walk overview:
4 miles, 6 miles or longer depending upon the in-walk decisions you make
Inland walk with some coastal views
Hilly
Start point: from your doorstep at Polrunny Farm
Circular walk
We are so privileged in Boscastle to have walks that cater to a huge variety of tastes. This walk takes you through the top end of our picture-perfect village, across meadows, into a dramatic wooded valley, stumbling across a hidden church, before returning down the valley into Boscastle.
This walk is particularly spectacular in May as Minster Wood shimmers in a bluebell-infused glow. It's also a good walk to do on a windy day, as the woods and valleys offer some shelter from the elements.
Highlights of this walk:
The sea views, both on the walk down the hill towards Boscastle, and as you cross the meadows towards Minster Wood
The Valency River – take your shoes and socks off and go for a paddle!
Minster Church, hidden behind a green wooded vale
A coffee and a lunch at Harbour Lights café by the slipway in Boscastle Harbour
The detailed directions and description of this walk have a blog post all to themselves.
Day 4 – Port Quin to Port Isaac
Walk overview:

5 miles
Mostly coastal walk
Hilly
Start point: 25-minute drive to Port Quin National Trust Car Park (the car park is small and can get busy, so in peak season start this walk early, or make it an evening walk)
Circular walk
This walk, which again can be downloaded from the iWalk Cornwall app, starts at one of our favourite coves in North Cornwall, Port Quin. Home to a handful of National Trust cottages, Port Quin's often sheltered waters are popular with Stand-up Paddle Boarders and kayakers.
The ups and downs on the stretch of the SW Coast Path between Port Quin and Port Isaac have earned this stretch of coastline its own nickname - 'the rollercoaster'. If you are up for the challenge though, the clifftop views make this walk one to remember.
Highlights of this walk:
Port Quin – formerly a fishing village but the traditional cottages on the sea front are now owned by the National Trust. If it's a hot day, take your swimming gear!
Port Isaac – the village in which the popular Doc Martin series is filmed. The walk takes you past Doc Martin's house
Wildlife including, if you're lucky, seals and birds of prey
Pine Haven wooded valley, with the valley floor carpeted with bluebells in spring.
There are no cafes or shops at Port Quin, so you might want to factor in getting something to eat at one of Port Isaac's lovely cafes, pubs or restaurants.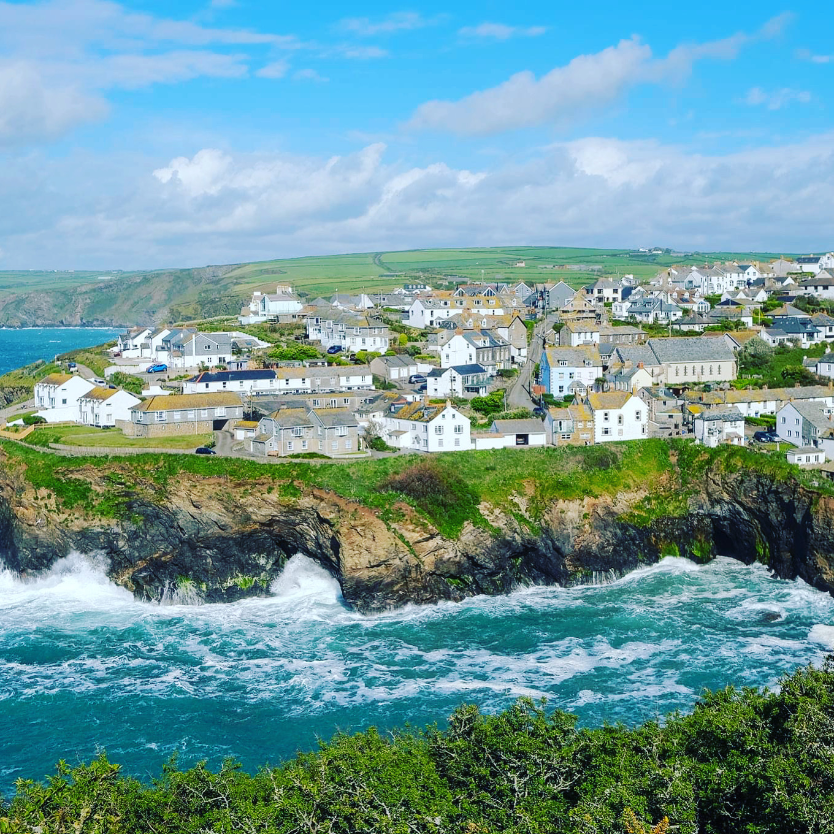 Day 5 – Rocky Valley and St Nectan's Glen waterfall
Walk overview:
7 miles
Mostly inland walk
Not quite as hilly as some of the other walks, but don't expect flat!
Start point: your doorstep at Polrunny Farm
Circular walk
We are going old school with this walk. Although the walk follows public footpaths, those footpaths aren't always obvious so you'll probably need the OS map that we provide in your cottage.
It's worth noting up front that this walk contains a couple of stiles that dogs may struggle with. We have taken our big dog on this walk. We managed the stiles, but not without a bit of pushing and shoving.
Highlights of this walk:
St Nectan's Glen - a beautiful tranquil valley with a pretty 60ft waterfall considered to be one of the most spiritual places in the UK (note the waterfall is privately owned and there is a charge for entry).
Rocky Valley – spectacular scenery, the ruins of Trewethett Mill and old carvings (more on these later…)
Panoramic coastal views
A pint in The Napoleon on the way home!
As this walk is a bit more bespoke than the others, we'll give you a bit more direction here than we have done on the other walks.
Leave your cottage and turn right, heading up the lane to the junction. Take the sharp right turn and walk a few hundred metres down that lane to the first farmhouse on your left. To the left of the house, you'll see a big granite stile (it's almost as if they don't want you to go that way!). This is the entry point to your walk.
Follow the first field and the several that follow until you come to another old farmstead on a lane. Turn left on the lane and follow it downhill. At the lowest point you'll see a stream on your left, and on your right you should find a Public Footpath sign. Take that stile and make your way through the woods and fields down the valley.
The walk opens up into a lovely river valley and you'll soon come to the top of St Nectan's Glen. The waterfall site is privately owned and you are charged an entrance fee. The entrance fee allows you to see the waterfall, and paddle / bathe in the water too if you wish. It's a lovely peaceful place. If you don't want to pay the entrance fee, you can still grab a great coffee and cake in the café.
Onwards then down the St Nectan's glen, following the valley and river until you see a signpost for Halgabron. Follow the sign, crossing the river and up the hill, across the field and turn left along the lane, through the hamlet of Halgabron, and on down to the Tintagel-Boscastle road. Cross straight over towards Trevillet Mill. Follow the footpath signs around the mill and walk beside the river. Cross the river by a footbridge.
Where the path recrosses the river, you'll pass through the ruins of Trewethett Mill, just behind which are the Rocky Valley carvings. A quick google will show you that there's much discussion about when these carvings were made - anything from 300-3000 years ago apparently!
Cross the river into the truly breath-taking Rocky Valley. The jagged rocks, carved out by the Trevillet River, have created a stunning natural landscape that offers up several great spots for a picnic and a paddle.
Enjoy the beautiful views as you head towards the sea. Turn right on the coast path towards Boscastle and enjoy the views for a good couple of miles until you you can see Willapark and the Lookout - that's the little white building standing proud on the headland before the entrance to Boscastle harbour.
Before you reach that headland, as you ascend the previous cliff, you'll see a sign for Forrabury off to the right. Take that direction, heading towards Forrabury church, taking note of the medieval farming ' stiches' you are passing on your left - one of just three such sites remaining in the country.
Turn right just before you get to the wall of the churchyard. Through the cow field and out into a residential area. This is Green Lanes. Follow that road uphill for a couple of minutes until you reach the Tintagel Road. Cross the road and take the path past the grass to the left that takes you on to the wonderfully named Paradise Road. Follow Paradise Road for a few minutes until you reach High Street - the narrow lane that runs from the village to Polrunny Farm. If you fancy some sustenance, turn left and the pub is a few yards down the hill. Otherwise, turn right and head up the hill to your cottage.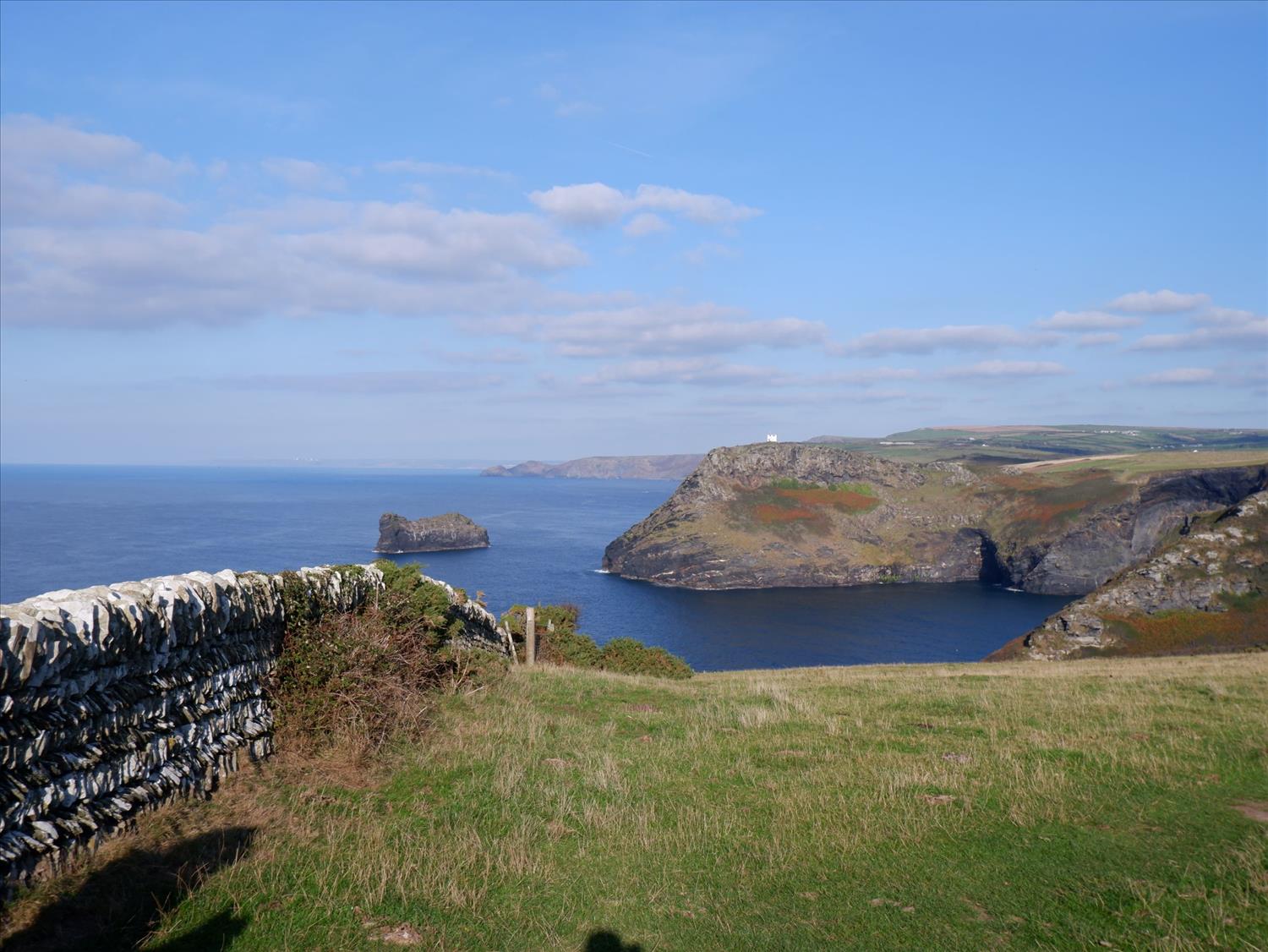 Day 6 – Daymer Bay to Padstow
Walk overview:
6.4 miles
Mostly coastal walk
Flatter than most North Cornwall coastal walks
Start point: 30 minute drive to Daymer Bay car park
Figure of eight walk
The Camel Estuary is absolutely worth a visit whilst you are in North Cornwall. This iWalk Cornwall walk takes you across vast expanses of sandy beaches, on a ferry, through the foodie-paradise that is Padstow, past deer, over sand dunes and to unspoilt and usually quiet coves.
Highlights of this walk:
Beautiful unspoilt beaches - Daymer Bay and Rock, Harbour Cove and St Georges Cove
St Enodoc Church looking out over the estuary – the burial place of Sir John Betjeman.
The 5-minute ferry crossing to and from Padstow
Padstow – there's no better place to have lunch, or do a bit of shopping.
Plenty of opportunities for a swim in the calmer estuary waters.
If you're going to do a walk that takes you to Padstow, you should probably time it so that you're in Padstow for your lunch. There's plenty of pubs and fish and chip shops to choose from, but if you want to go up-market and let Rick Stein feed you, then book in advance!
Some alternative walks
We are sure that you'll love the walks we have featured here. But we are also sure that there are plenty of alternative trails that you'd love just as much.
If you want to add more coastal walks to your itinerary, why not try walking from Polrunny Farm to Crackington Haven (a seven-mile hilly one-way walk, getting the bus back); or from Crakington to Bude (another hilly 7-miler). Or if you love sandy bays, then walking around 'the seven bays' (Mawgan Porth to Padstow) is stunning.
You might fancy a shorter, slightly flatter coastal walk one doy. If so, then drive to Trebarwith Strand and walk to Tintagel (about 2 miles). You could have lunch in Tintagel and then walk back to Trebarwith. Retracing your steps isn't a hardship in this instance.
Or if you find yourselves with an hour or two to kill one day, then walk into Boscastle, turn right at the sea and follow the SW Coast Path for just under a mile until you reach Boscastle's lovely farm shop.
Those of you that want to add more inland walks to your itinerary should check out the walking trails at Cardinham Woods, or the National Trust-maintained gardens at Lanhydrock.
I could go on. And on. And on!
Happy walking.

If you would like to know more about Polrunny Farm and its traditional Cornish cottages; if you would like to check availability and rates; or if you would like to book online with us, then click the below button.

To stay up to date with new blog posts, and more importantly to ensure that you are one of the first to hear about new offers and competitions run by Polrunny Farm, all you need to do is join our Polrunny Farm Email Club.