Where to eat in Boscastle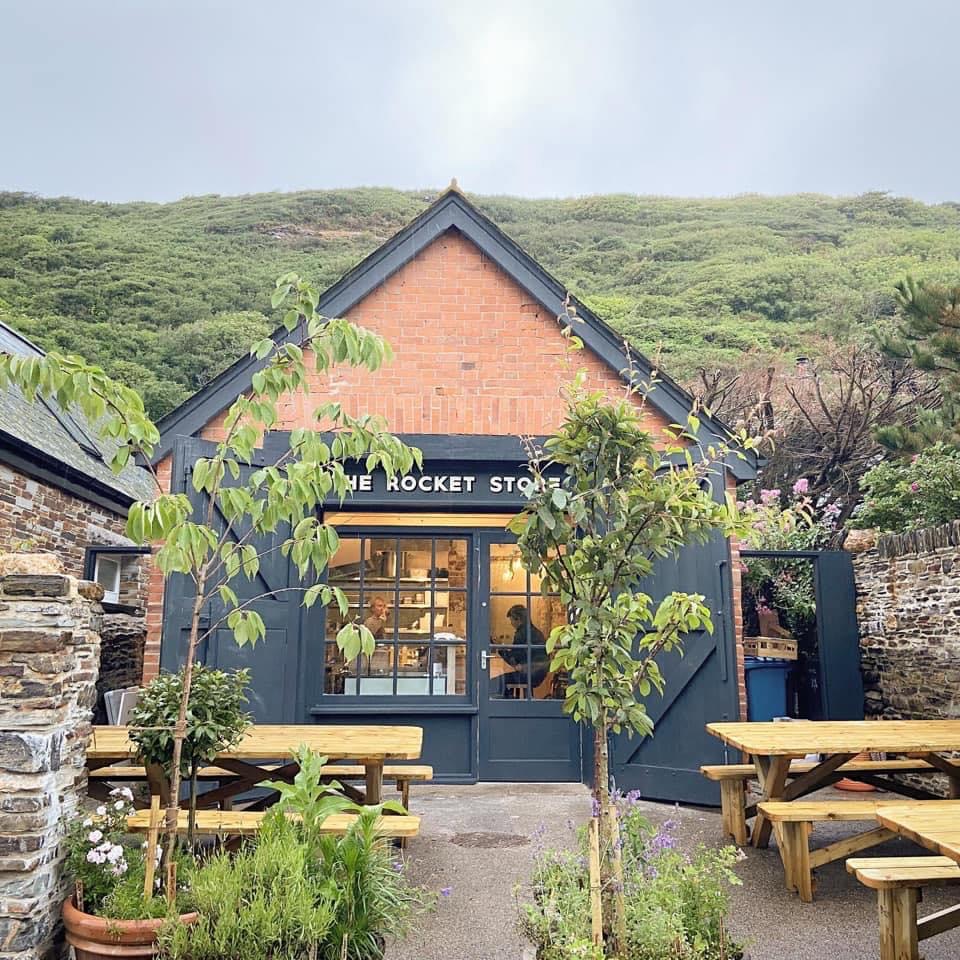 This article provides you with an overview of the food choices available in and around Boscastle, Cornwall.
"Where's a good place to eat in Boscastle," ask most of our guests, most weeks.
Always anxious to answer our guests' questions, over the past few months Melanie and I have embarked on our own personal food-fest.
We have devoured Boscastle's entire stocks of scallops, scones and seabass. We have consumed more than our body weight in pasties, pastas and ploughmans. And we have loosened our belts and feasted upon the local cheeses, clotted cream and cakes.
Yes, we have truly put our bodies on the line, sampling a multitude of the dishes offered by Boscastle's cafes, pubs, restaurants and tea shops, all so that we can answer your questions…. We're nothing if not committed.
Where can I get a good breakfast in Boscastle? Is there a good chip shop in Boscastle? Where serves the best pasty in Boscastle? Can I get a cream tea in Boscastle? Is there anywhere we can eat that has a sea view in Boscastle?
This article will answer these questions and more. It will give you information that will help you to make your own choices of where to go to fulfil your culinary needs.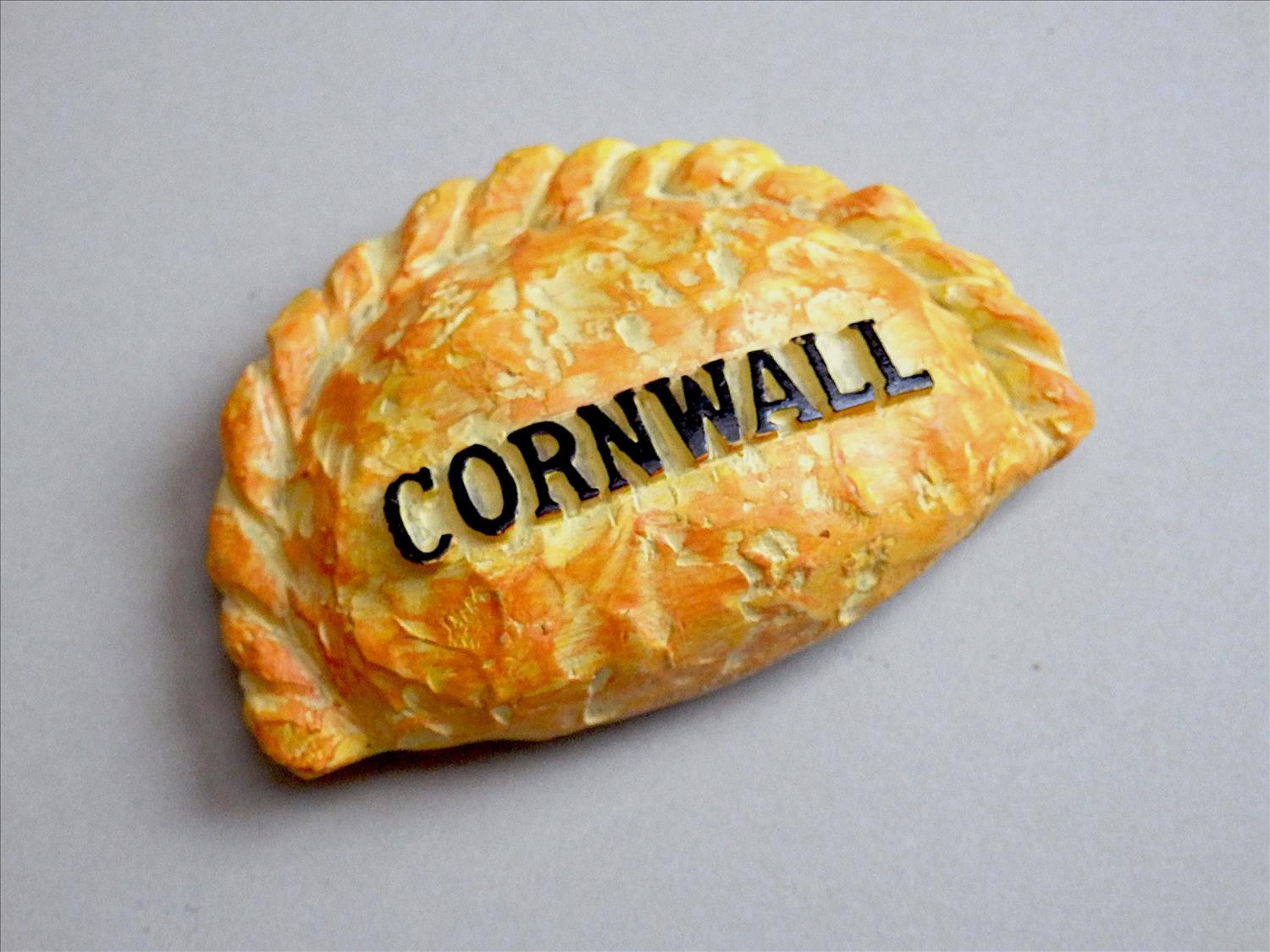 What have we discovered through our excessive gorging?
Let's start off with a few headlines. Things we have learnt include:
Walking back to Polrunny Farm from Boscastle is hard enough with that hill, but it's even harder if you've just eaten the rich crab linguini at The Wellington.
There is some lovely fish cookery on offer in Boscastle, but you have to know where to find it.
Nothing beats a Cornish cream tea, Boscastle-style
Boscastle is a late riser and an early-closer. If you arrive before 10am or after 9pm, your food choices will be limited.
In the current climate, you should definitely try to book in advance. Pre-booking at the restaurants is essential, and you may not get into the pubs without a booking on some nights.
My target time in this October's London Marathon is now a mere pipe dream.
Unlike its noisy neighbours Port Isaac and Padstow, Boscastle is not yet on the foodie tourist circuit. But it is a lovely village, with plenty of eat-in and take-away establishments that pride themselves on providing quality sustenance, for locals and tourists alike.
Right, let's get to the detail.
They say that breakfast is the most important meal of the day, so let's start with that.
Holiday breakfasts mean different things to different people. Many of our guests enjoy their bacon and eggs or fruit and muesli in Polrunny Farm's breakfast garden whilst watching the local wildlife or gazing at the sea. But a good proportion prefer to entrust others with the responsibility for doing the cooking for them.
Boscastle's award-winning farm shop serves lovely late breakfasts (it opens at 10am) in its sea-view café. On a warm day, there's nothing better than sitting in the farm shop's garden eating your full Cornish. The Boscastle Farm Shop is located through Boscastle, up the hill half a mile past the Cobweb Inn.
The Harbour Lights café on the harbour is another popular breakfast hangout, especially if you like your breakfasts the continental way. I didn't know that filled croissants were a thing until I ordered one. It was delicious, as was the coffee.
If you prefer your elevenses to your breakfasts, you'll also enjoy the Bridge House Tea Rooms just short of the harbour.
Those with a packed holiday itinerary may prefer to pick up a pastry and enjoy it whilst walking the SW Coast Path. The Manor House Coffee Shop, Boscastle Bakery and the Deli, all located in the heart of the village, will have something available that ticks your boxes.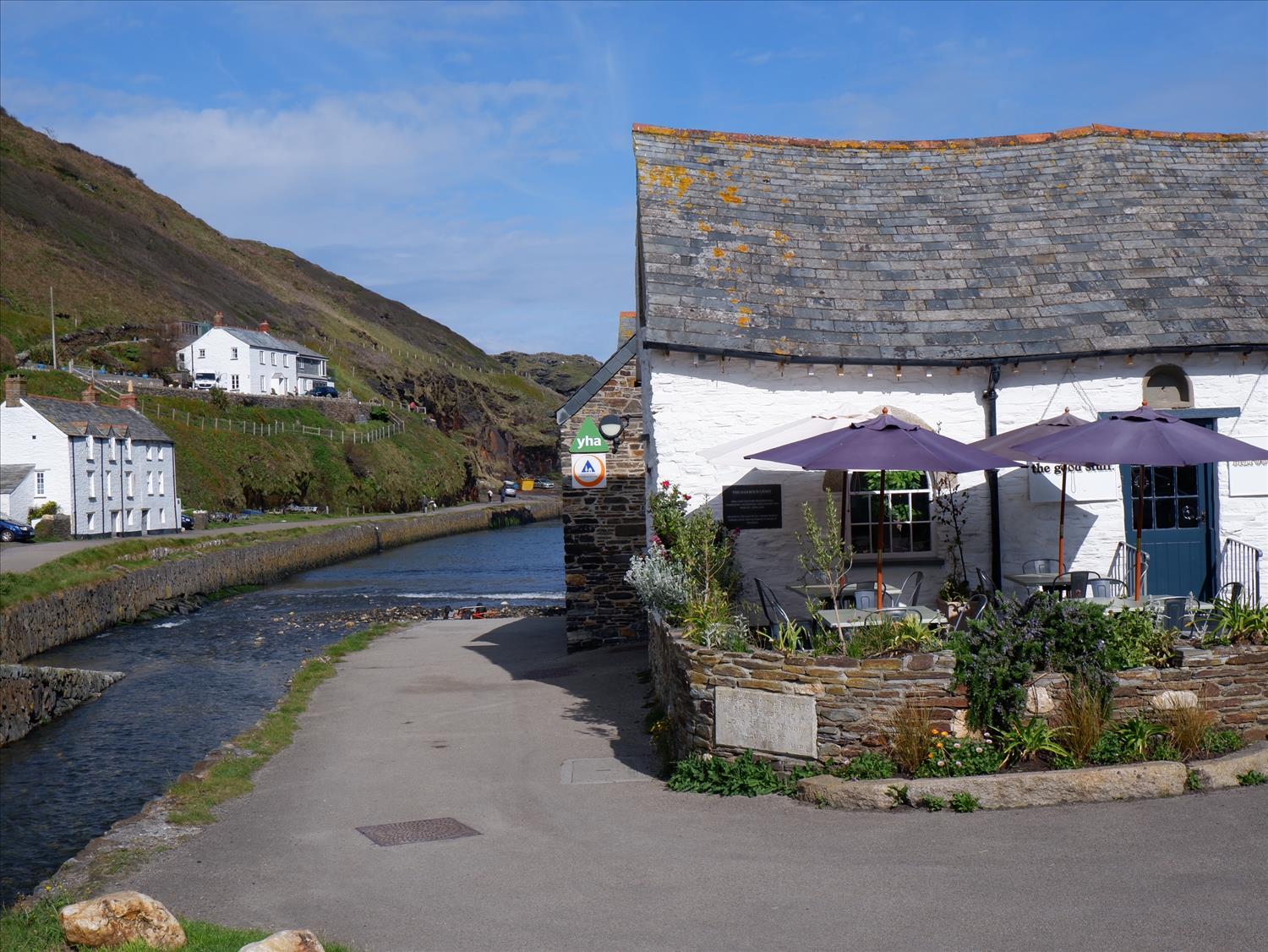 After your breakfast and elevenses, you'll no doubt be wanting lunch. The Toby Jug café has a long menu and caters for those craving a full Cornish with proper cafe coffee/tea. On a summer's day, their outdoor seating is the perfect location to sit and watch the world go by.
The Cobweb Inn offers traditional pub grub, including a vegan Thai curry. On some Sundays, you can eat or drink at the Cobweb while the house singers work their way through their repertoire of sea shanties.
We also love Sharon's Plaice (fish and chips). The fish is lovely, and their garden is an afternoon suntrap, with the added bonus that they have a licence to serve alcohol too. They are currently open until 9pm.
Back to the Boscastle Farm Shop. Their lunch menu is delicious. Their beef comes from their own farm. Their ploughmans are my personal favourite – they receive my top marks for both taste and portion size.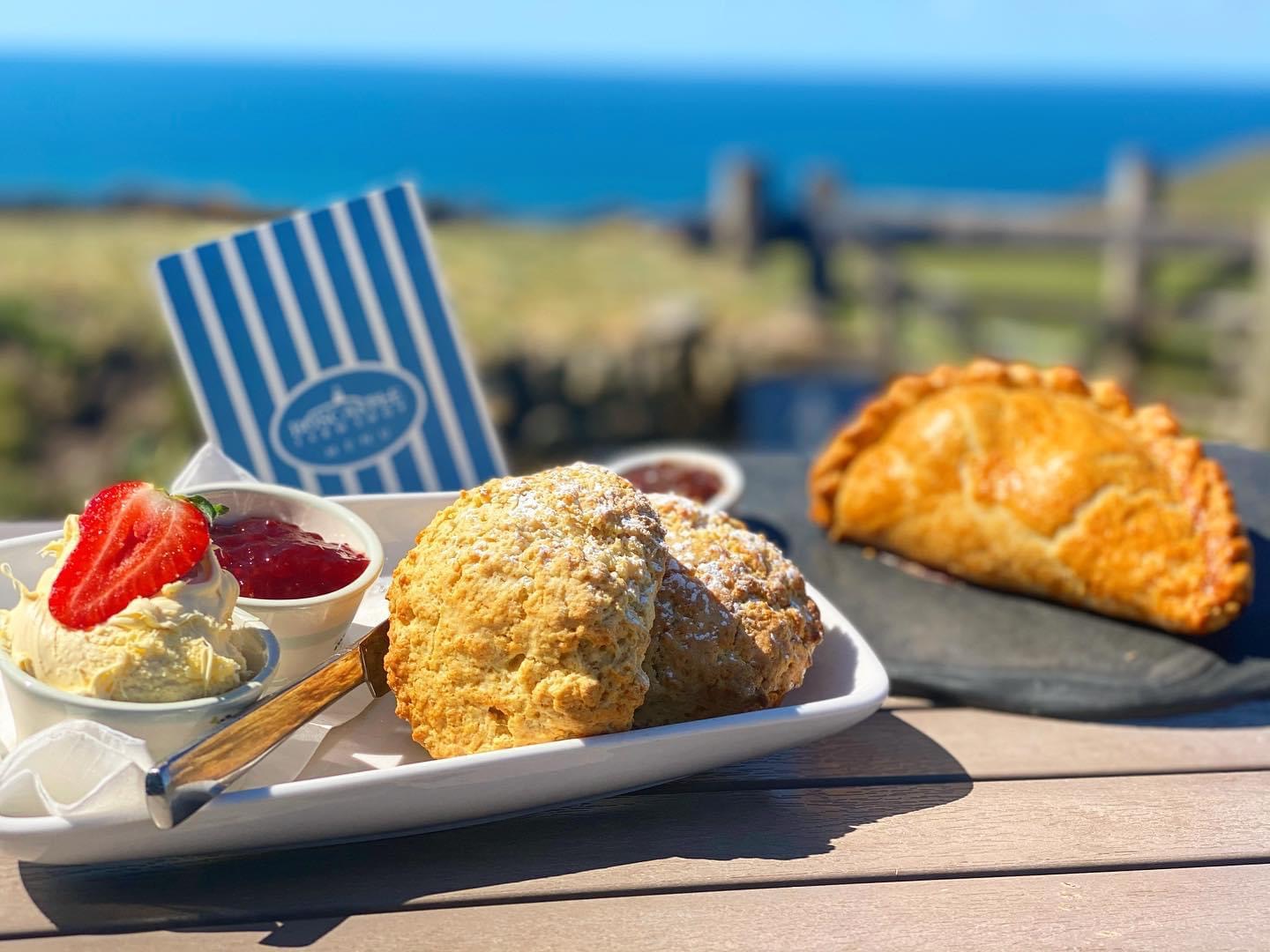 Now on to two of Cornwall's 'must try whilst you are here' items - pasties and cream teas.
Everywhere in Boscastle seems to serve 'award-winning pasties'. I have done my utmost to try them all. The Manor House pasties, also served in the Napoleon Inn, are very good, but if I am allowed to have a favourite, I would once again opt for those served at The Farm Shop (and no, I'm not on commission!)
I'm not a cream tea aficionado, but guests tell me that the Bridge House Tea Rooms and Harbour Lights achieve top marks for their traditional Cornish spreads.
On to dinner. An evening meal in Boscastle can be a thoroughly rewarding affair. The pubs and restaurants cater for most tastes, although those that fancy a curry or a Chinese may not find what they are looking for in our traditional village. (Why would you come to Cornwall and want a Chinese anyway?)
Let's firstly cover an establishment we have already mentioned. One set of holiday-makers at Polrunny Farm told us that the highlight of their week was picking up fish and chips from Sharon's Plaice and eating it sitting in our garden with the sea view as a very agreeable backdrop. We have done the same ourselves on a number of occasions.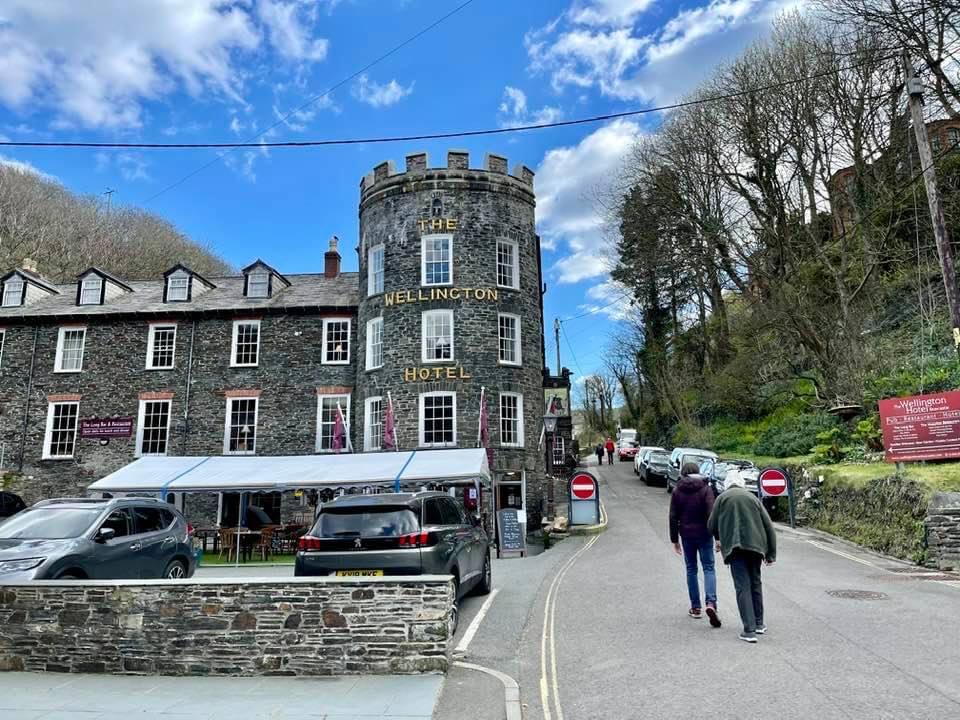 I don't know what it says about our guests (!) but lots of you have told us that you have enjoyed the pub grub in Boscastle. The Cobweb and the Wellington (pictured) in the heart of the village both provide a solid menu of dishes. We haven't eaten in The Cobweb recently (it's on our list!) but we do like the quality of the food in The Wellington. The Welly also offers vegan and gluten free menus as well as their traditional meat and fish offerings.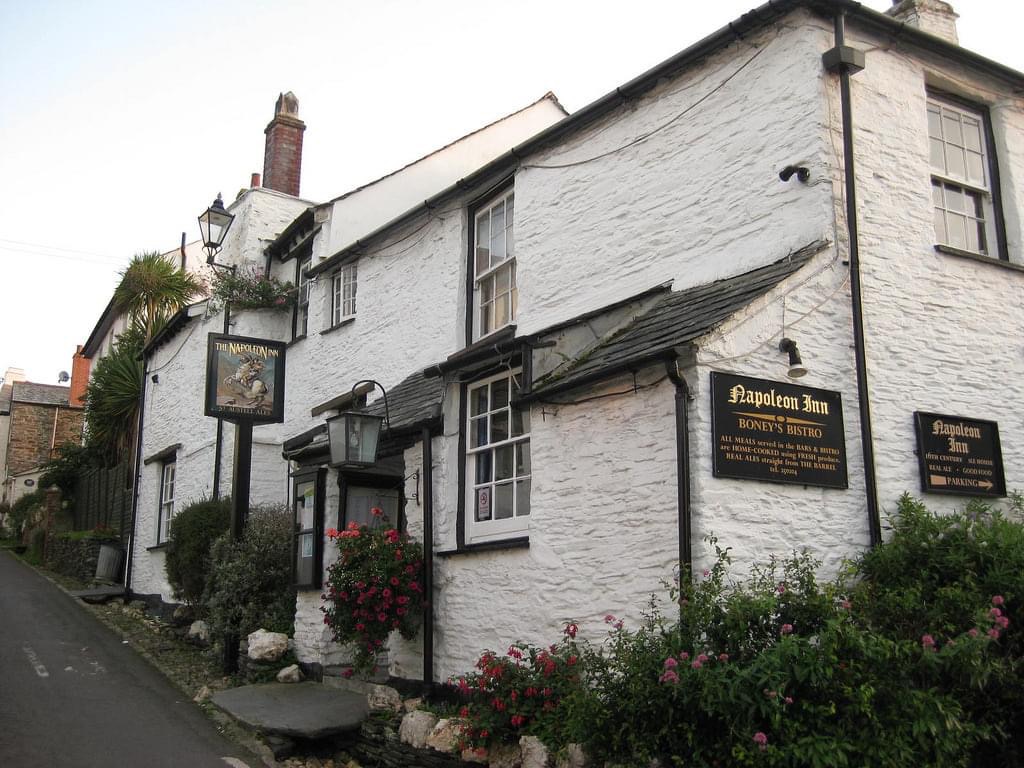 The other pub in Boscastle is the Napoleon Inn, known locally as The Nap. The Nap is at the top of the village, in one of the first clusters of buildings you encounter as you walk / drive down the hill from Polrunny Farm. The Nap is a traditional olde world pub, popular amongst those that live or are holidaying at the top of the village.
Our guests enjoy the warm welcome and the atmosphere at The Nap. They enjoy the good pub grub that includes pies, steaks and burgers, fish and chips, pastas and vegetarian options that change regularly. They also enjoy the fact that The Nap offer Polrunny Farm guests a 10% discount off their bill. We'll tell you how to access this offer when you stay with us.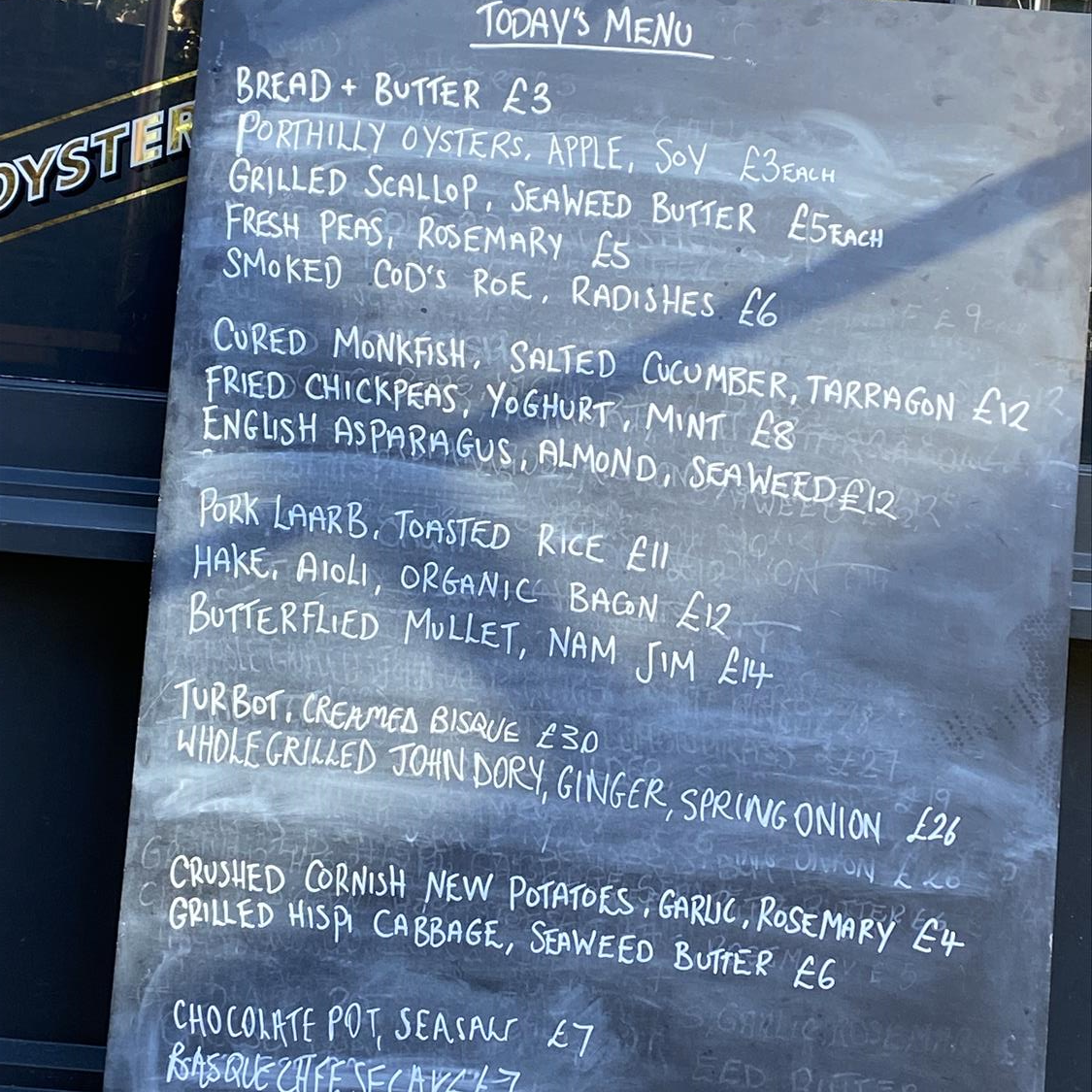 Back to the story. Those of you that are looking for a restaurant rather than a pub for your evening meal will want to try The Riverside and the Rocket Store.
The Riverside, located at the harbour end of the village, offers a fairly traditional menu that pays homage to Cornwall's seaside location, with excellently cooked locally caught fish taking centre stage.
The Rocket Store, accessed via the path down the right side of the harbour, offers a predominantly fish-based selection of small plates (see the blackboard menu above), with the menu changing each night depending upon that day's catch and presumably the whim of the up-and-coming chef. The Rocket Store is not cheap but the quality of the dishes will definitely entice us back.
There you go, that's the Boscastle food scene in a nutshell. I hope you are full up after that lot. Personally I need a lie down.
Of course, you won't want to eat in Boscastle every night. You'll want to travel to the fine restaurants of Bude, or to the Port William with its' stunning view over Trebarwith beach, or to the many Cornish traditional village pubs a short car ride away from Polrunny.
And you'll look to us for guidance on the places to go.
More research is needed me thinks!
If you would like to know more about Polrunny Farm and its traditional Cornish cottages; if you would like to check availability and rates; or if you would like to book online with us, then click the below button.