The five best swimbles in Cornwall!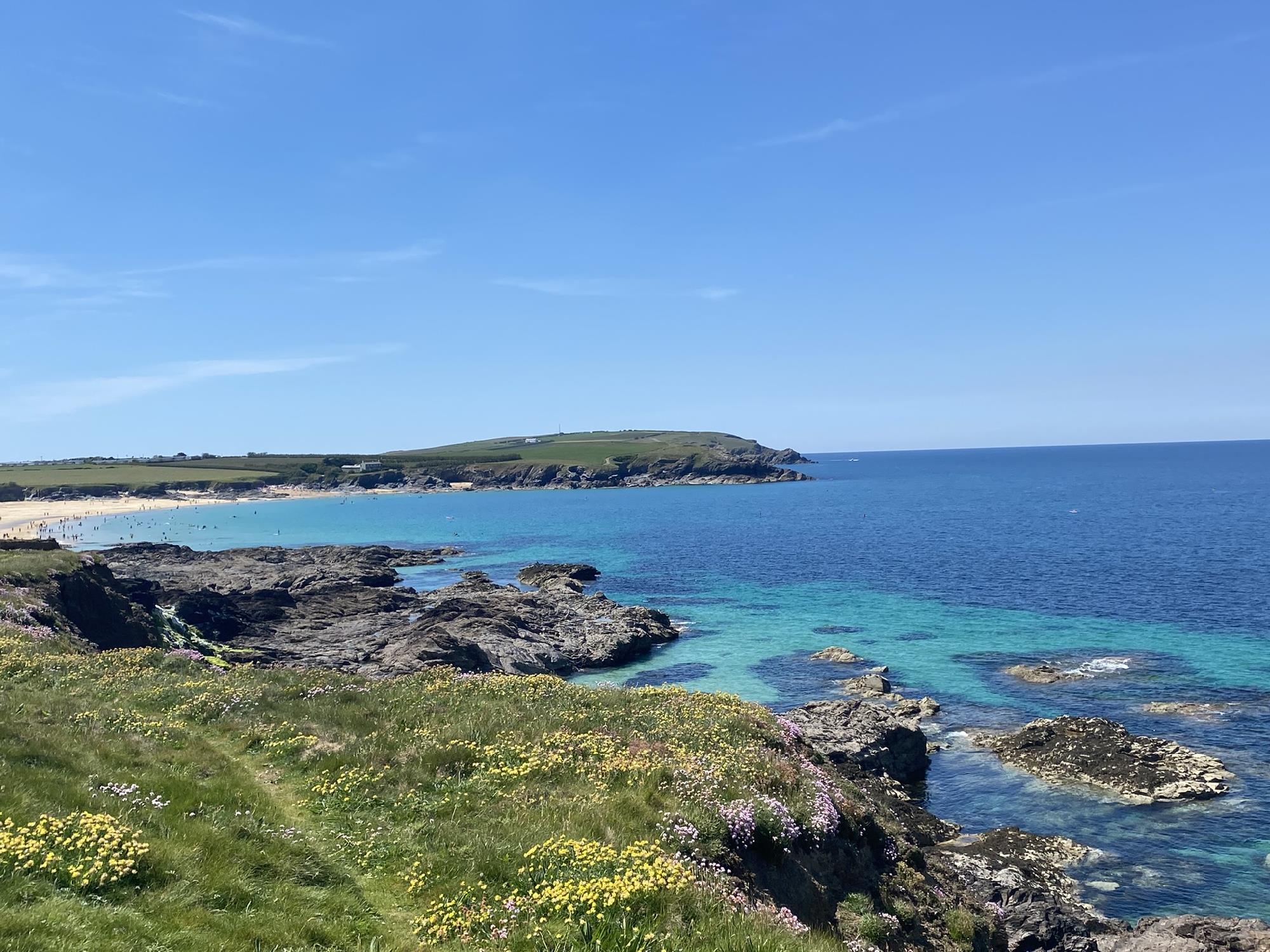 You're on holiday in Cornwall. You love exploring. You love walking. You love swimming. But where can you go to do both? This article tells you about five - actually six but we'll get to that in a bit - great walks and swims in Cornwall, all of which are lovely to do while you're staying at Polrunny Farm holiday cottages, Boscastle.
People come to Cornwall for a variety of reasons. Lots of guests who stay at Polrunny Farm Holiday Cottages love to walk. Many of you enjoy a good swim in the fantastic coves and inlets close to your beautiful Boscastle base.
If you are a swimmer and a walker, then this article is definitely for you.
Read on and you'll discover some of North Cornwall's best walks, and some fantastically atmospheric and invigorating swims. You'll learn about five of the best Cornish 'swimbles'.
For those of us who aren't quick on the uptake (Melanie had to explain it to me!), a swimble is a cross between a bimble (a leisurely walk) and a swim.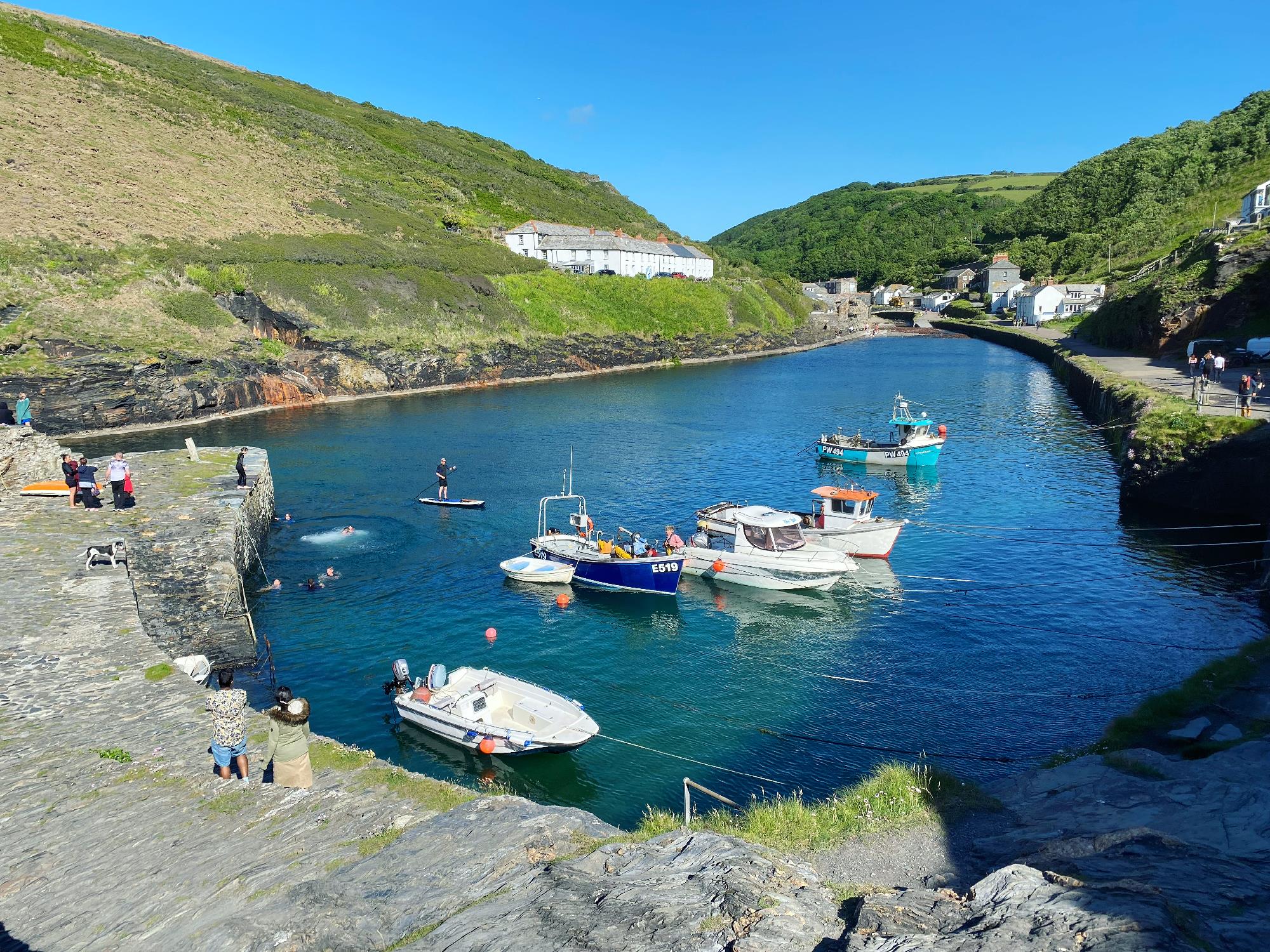 A word on swimming safely…
Before we get to the five swimbles, we want to make sure that you are aware of the risks before you make the decision to swim. Any sea swim in Cornwall comes with risks - invisible currents, big waves, underwater rocks and cold-water shock to name but a few.
You are responsible for assessing those risks, and you should take that responsibility seriously.
If you aren't a confident swimmer, you should give these swimbles a miss and instead stick to swimming on beaches with lifeguards in attendance.
Competent or strong swimmers too should think carefully about the sea conditions before rushing into the waves. Even in the summer holidays, conditions are often too rough to facilitate safe swimming. If you can't safely do a swimble today, then wait until tomorrow to see if the conditions improve.
The best swimble in Cornwall - Boscastle Harbour.
Those of you that know our articles won't be surprised that our favourite swimble is in and around our home village of Boscastle. See the above picture. If you plan on doing this swimble, check the yellow tide times books in your cottage before you set out. Swimming in the harbour is at its best an hour or two either side of high tide.
The mile or so walk down to the harbour from Polrunny Farm is lovely. There's always something to see. As you head towards the sea, you'll pass sheep or cows in the fields, lovely cottages, centuries-old inns, the tiny village school, and some of Boscastle's charming eateries.
If you want to walk a bit further before swimming, stroll along the path to the left of the harbour, towards the Lookout and Tintagel, or to the right towards the Farm Shop and Crackington Haven.
And when you're ready for a swim, walk along the wall on the right of the harbour. Store your kit on the harbour wall or on the cliff-side rocks and gently lower yourself in to that shimmering water.
The local kids jump off the harbour wall at high tide. If you're still a child at heart, make sure to depth-check before you jump.
There's something magical about swimming in Boscastle harbour. On a sunny day, the turquoise-green water and the twisting, turning cliffs make you feel like you're swimming in your own personal film set.
If the weather is calm enough, swim around the harbour wall, to the old small sea pool the locals used to learn to swim in when the harbour was teeming with wooden boats.
The harbour is bigger than it looks. You can get a decent length swim in within the shelter of the cliffs either side of you. If you are more of a triathlete than a dipper, and you want to swim out into the open sea and around Meachard Rock, you should be aware that local seafarers refer to the harbour entrance as 'the washing machine' due to the turbulence generated as the calmer harbour water meets the open sea.
Once you have had your swimming fix, change harbour side and warm up in one of Boscastle's lovely cafes – the coffee is great in 'The Good Stuff', the lovely little building on the right-hand slipway - or pubs before tackling the up-hill walk back to Polrunny Farm.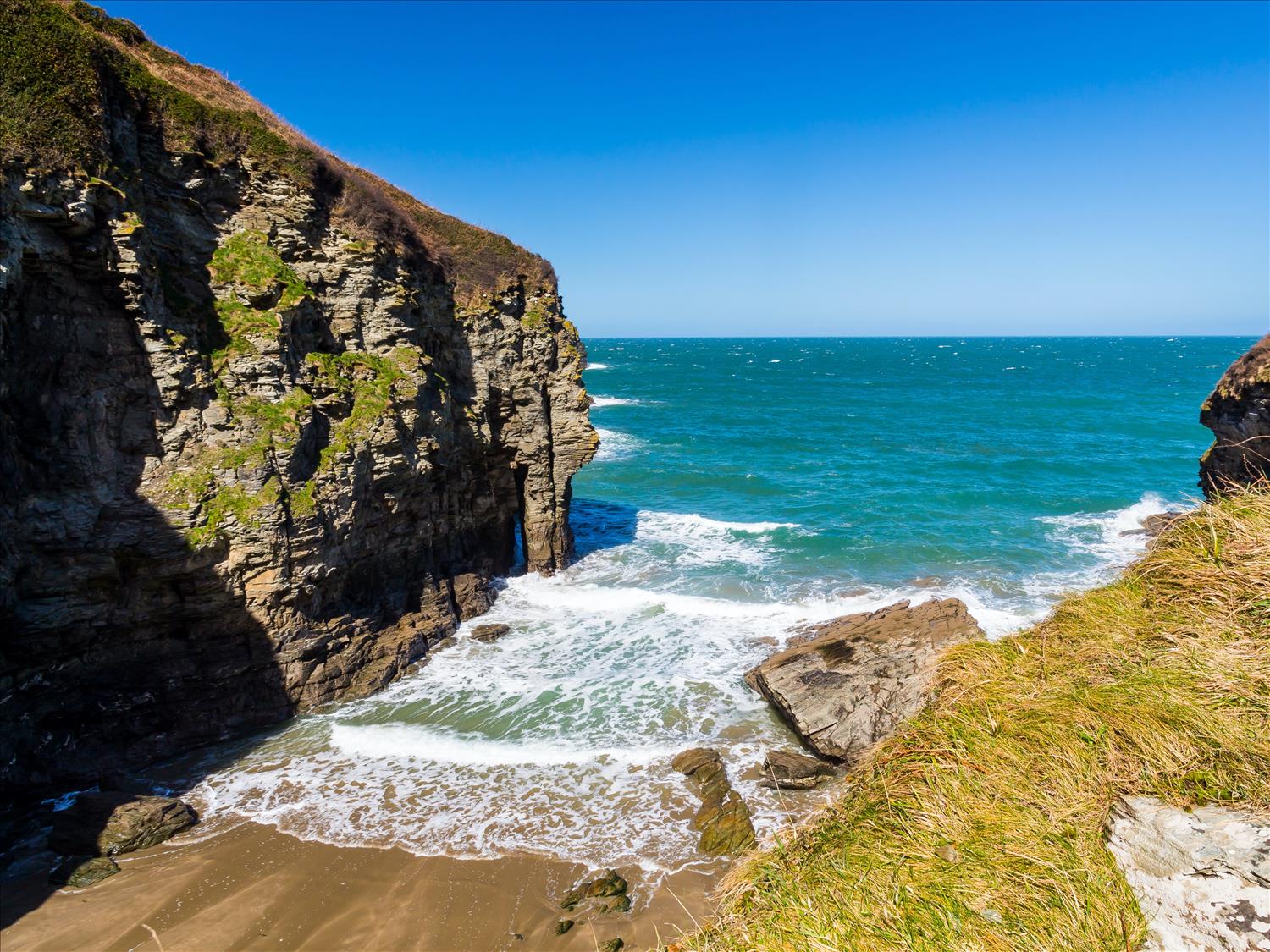 Benoath and Bossiney – a proper beach swimble!
Located off the South-West Coast Path between Boscastle and Tintagel, Benoath and Bossiney are two of the loveliest beaches you will find anywhere in Cornwall.
If you are up for a whole day out, this swimble can start from the doorstep of your Polrunny Farm cottage.
Leave your cottage a couple of hours before low tide. Stroll down to the harbour and take a left turn onto the cliff path.
Follow this spectacular section of coastal path for about 3 miles, past the beautiful Ladies Window rock, around cliff edges, down, then up, then down then up again… Those views are spectacular.
Once you have breathlessly reached the other side of the rugged and steep 'Rocky Valley', start looking out for a small, almost hidden path on the right. That path leads to the beautiful Benoath Cove.
The drop down to Benoath is tricky to navigate, so take your time. Bum-shuffling is allowed! Once you reach the beach, we are sure you'll agree that the scramble was worth the effort.
You can swim (or paddle) from Benoath around to Bossiney Cove at low tide. There are caves and spectacular rock formations to explore, as well as hidden coves.
When you're ready to drag yourselves off these perfect beaches, you can either continue your walk along the SW Coast Path to Tintagel and catch a taxi / 95 bus back to Boscastle; or retrace your steps and walk home.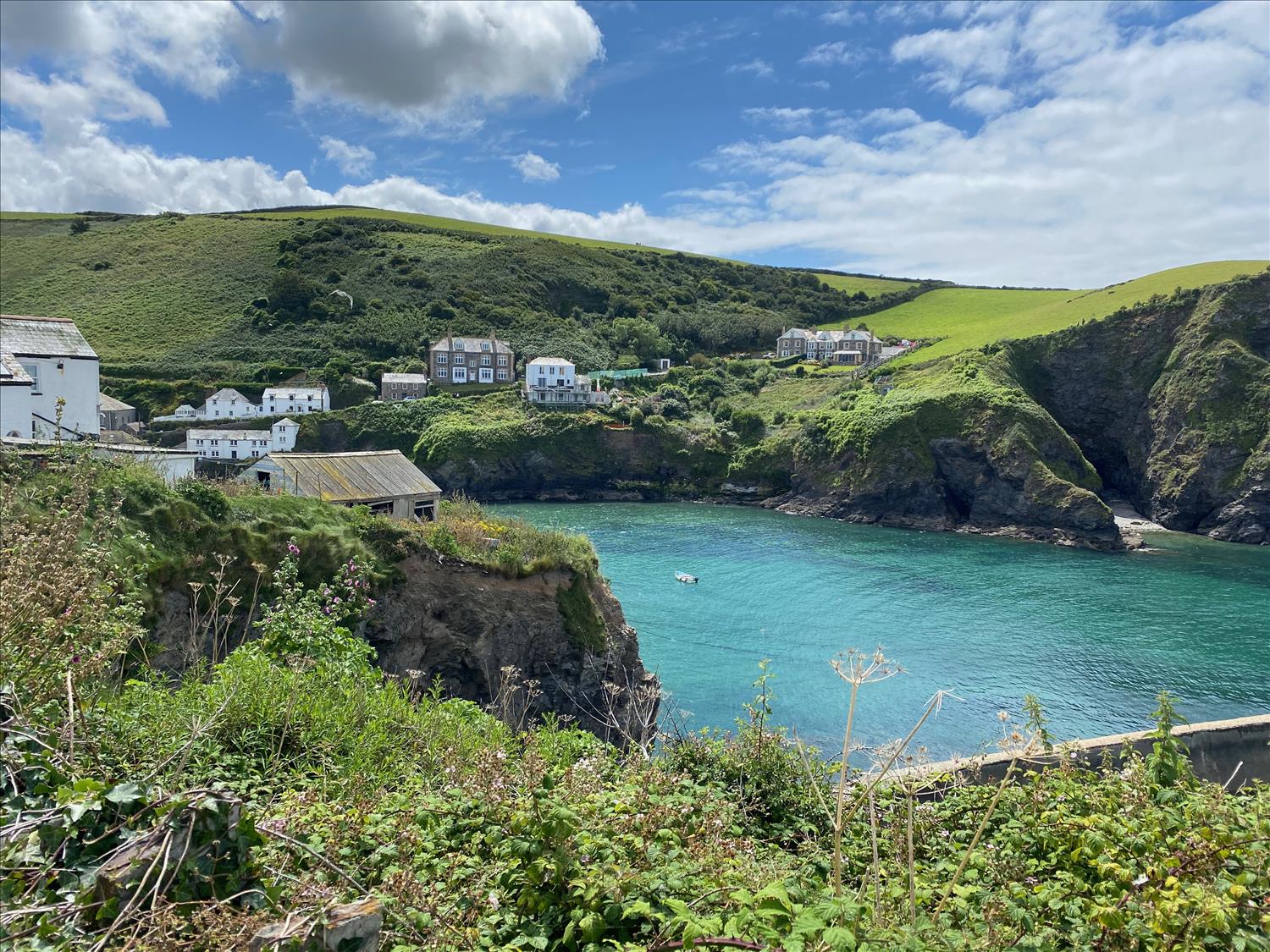 Port Isaac and Port Quin - A fishing village swimble
Port Isaac is one of the prettiest active fishing villages in Cornwall.
In the peak summer season, you'll want to avoid the crowds of visitors milling around in the narrow streets searching for Doc Martin's house. It's probably best start this swimble early, or even late in the afternoon.
Park in the main car park at Port Isaac. Your swimble won't take you past any cafes or pubs, so fuel yourselves in Port Isaac before you set off.
When you're ready for the off, take the coast path westwards – with the sea on your right. You'll explore a stunning three and a half mile stretch of the rugged North Cornwall coastline before reaching the gorgeous hamlet of Port Quin.
After a period of dereliction when the fishermen and their families left the village, Port Quin and its' lovely sea-facing cottages are now owned and maintained by the National Trust.
Port Quin is one of our personal favourite spots in Cornwall. It's quaint, tranquil and low-key. This beautiful and often calm bay is always pretty quiet, partly because the car park is so small – hence us advising you to visit it as part of a swimble.
Get yourselves in to those beautiful waters and explore the cove that time forgot. If you are like Melanie, simply float around and enjoy the juxtaposition of sea, land and space in quiet contemplation (whatever that means!).
Or if you're like me, get those legs kicking and explore the many caves and hidden corners of this calm oasis off the Atlantic.
Coming home you can walk up the left lane (looking inland) 200 metres or so and take the shorter inland route back to Port Isaac, or you can retrace your coastal path route – the views never look the same in reverse.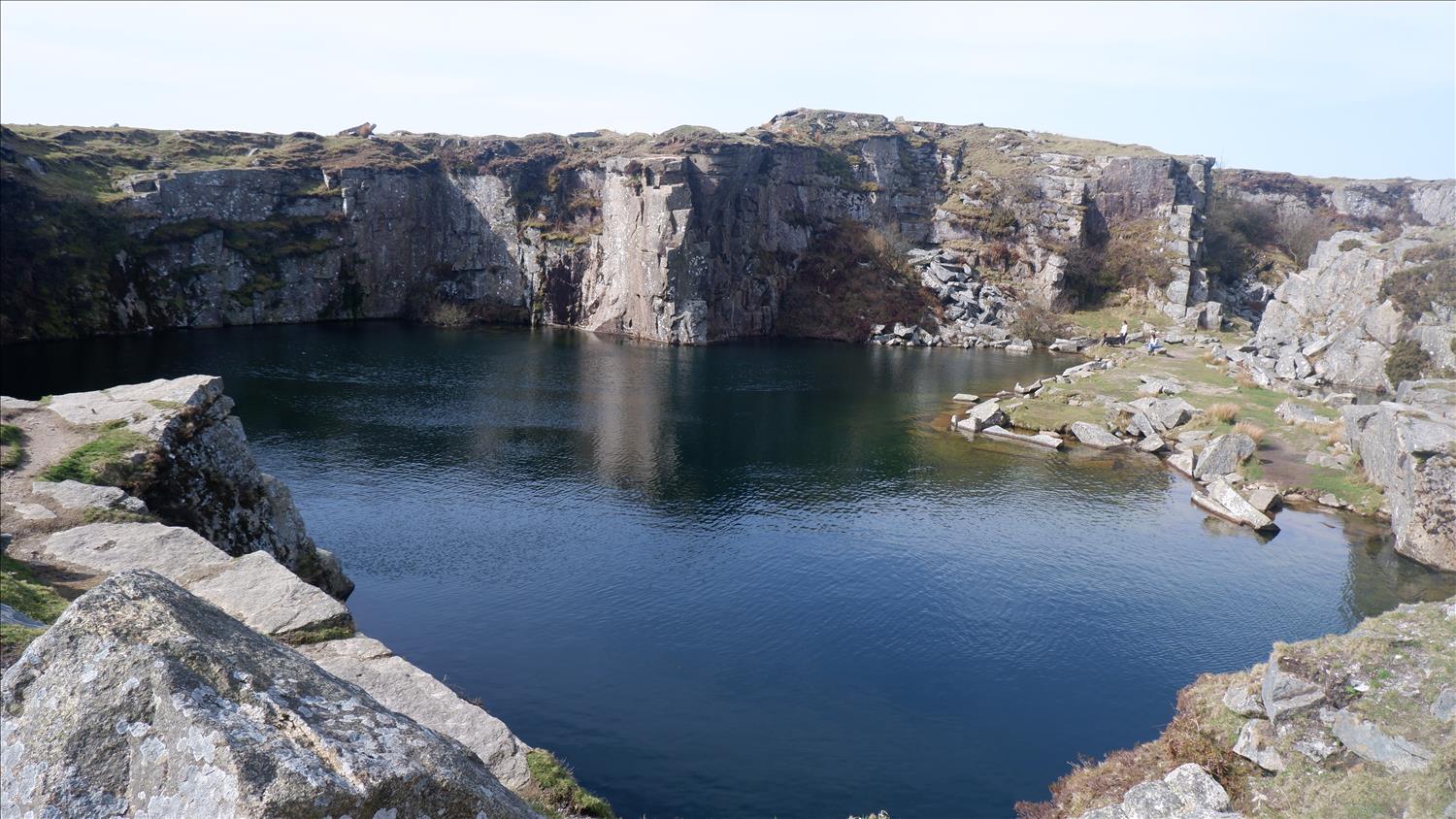 Minions and Goldiggins Quarry – a Bodmin Moor Swimble
If you like a bit of ancient history and a swim, this trip could well be for you.
Locals swim in Goldiggins pretty much all year round, but we should warn you up front that the custodians of the moor do not like you swimming in the quarries. They particularly don't like you jumping off the rocks. And for good reason. People have been seriously injured doing this. There are safer ways to enter the water, and we would advise that you use these shallower entry points.
Bodmin Moor is an enchanting expanse of undulating hills and craggy granite outcrops enjoyed by walkers, cattle, ponies and skylarks. And swimblers.
Put the village of Minions in your satnav and off you go. Your drive from Polrunny Farm, around the edge of the moor, will take just over half an hour.
Minions is a lovely little village, with plenty of parking. There's a good café there too.
From Minions, either use the onsite maps, or put Goldiggins Quarry into Google Maps on your phone, and begin to make your way across Bodmin Moor.
Your route will take you past the Neolithic or Bronze age (historians aren't sure which) Hurlers Stone Circles. Whenever they were arranged, they are still intact and amazing to see.
You'll also go close to 'The Cheesewring' - a stack of seven great rocks piled on top of each other. Seeing it, you'll find it hard to believe that it was naturally formed.
Depending on the exact course of your walk, you'll take about half an hour to reach the quarry.
There are three pools at Goldiggins. None of them are big, but they are deep. Consequently they stay pretty cold all year round. Bring your towels and warm clothes with you on this swimble.
Locals often take picnics, or even a BBQ, and spend the day at Goldiggins.
If you want to play Bodmin Moor bingo, then on your walk back towards Minions, see if you can tick off Craddock Moor Stone Circles, Daniel Gumb's cave and the old pumping engine house. They're all worth a photo.
A Camel, Bike Swimble
Do this leisurely swimble and you can almost claim to have done a triathlon.
Drive to Wadebridge (about half an hour from Polrunny Farm), hire a bike from the shop on the side of the Camel Trail and cycle to Padstow. The Camel Trail is a lovely, flat and car-free 6-mile cycle route that runs alongside the Camel Estuary. Those of you with dogs can even hire a dog trolley to tow behind your bike!
Padstow has plenty of shops, bars and restaurants, many of which are owned by Rick Stein. In our experience, Padstow also has more dogs per square metre than anywhere outside of Batteresa.
Many visitors to Padstow simply bimble around the harbour. We would recommend that you head through the harbour and up the hill past the war memorial. Continue walking and you'll reach Harbour Cove and the other beautiful golden sand beaches at the entrance to the estuary. Each one of them is a lovely swimming spot, with sand dunes providing shelter from the breeze.
Once you have satisfied your swimming urges, head back through Padstow to your cycle back to Wadebridge.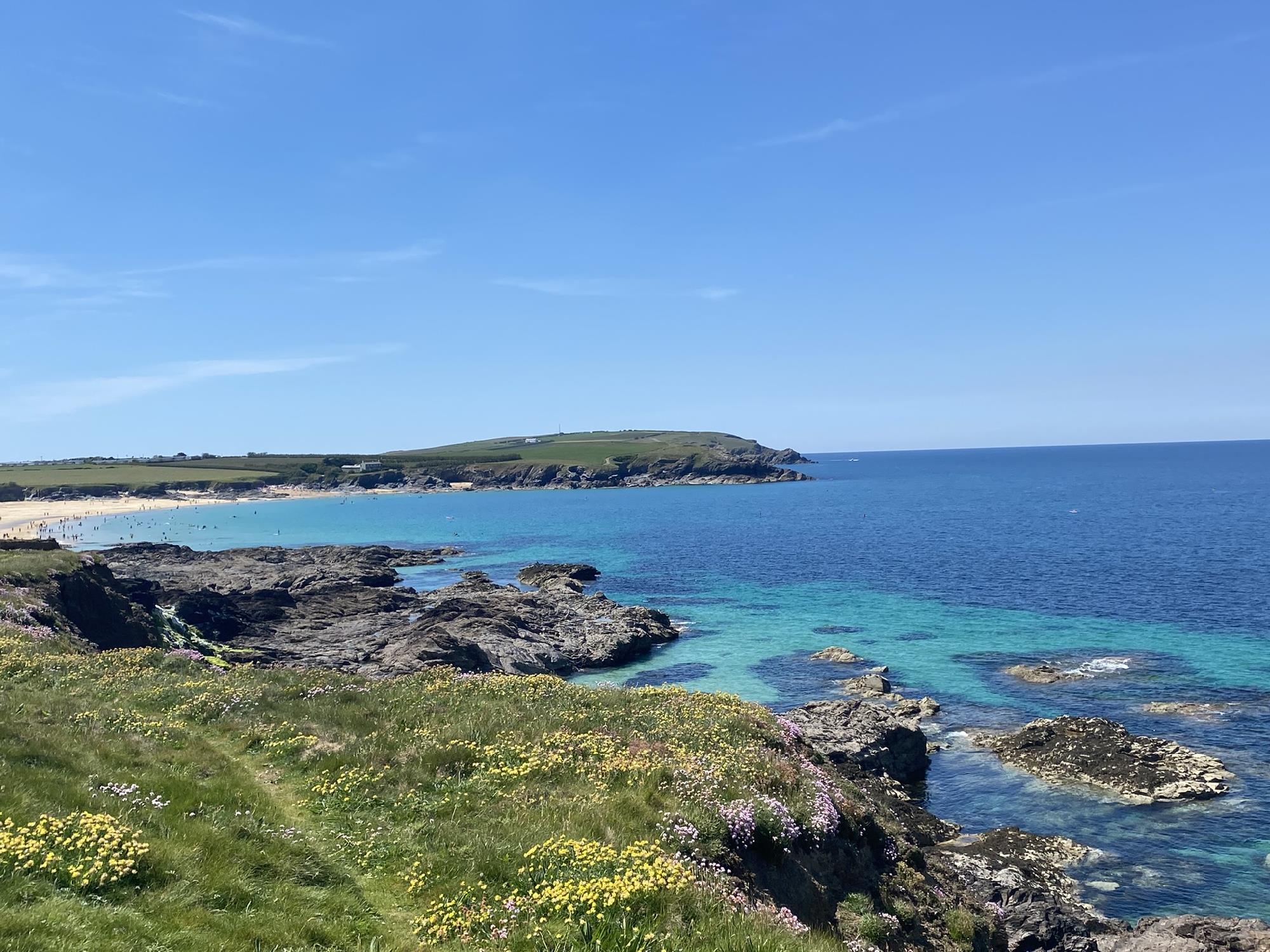 That's our five swimbles ticked off. But we know that many of you do at least one day trip to the south-western extremities of Cornwall during your stay at Polrunny. There is no reason why that day trip shouldn't be a swimble so here's a bonus suggestion for you - Porthgwarra and Nanjizal – a West Cornwall swimble day trip!
Owned by the Aubyn family who own St Michaels Mount, Porthgwarra is a picturesque fishing hamlet virtually as far southwest as you can get on the British mainland. You'll love the cottages, the boats and the pasties. Fans of the Poldark series might recognise some of the views.
For your walk, we propose that you take the coast path with the sea on your left, and head for Nanjizal. Nanjizal is a beautiful beach, with a natural rock arch and dipping pool, both revealed at low tide. If the sky is right, then the depths of greens and blues in the sea at Nanjizal are something to behold.
There are so many sensational beaches on the tip of Cornwall that are absolutely worth a visit. Have a look at our 'five best day trips' article for ideas of other beaches not far from Nanjizal that you could visit to prolong this day trip swimble.
If you would like to know more about farm and its traditional Cornish cottages; if you would like to check availability and rates; or if you would like to book online with us, then click the below button.