Polrunny Farm: Dogtastic holidays and dog-friendly beaches in Cornwall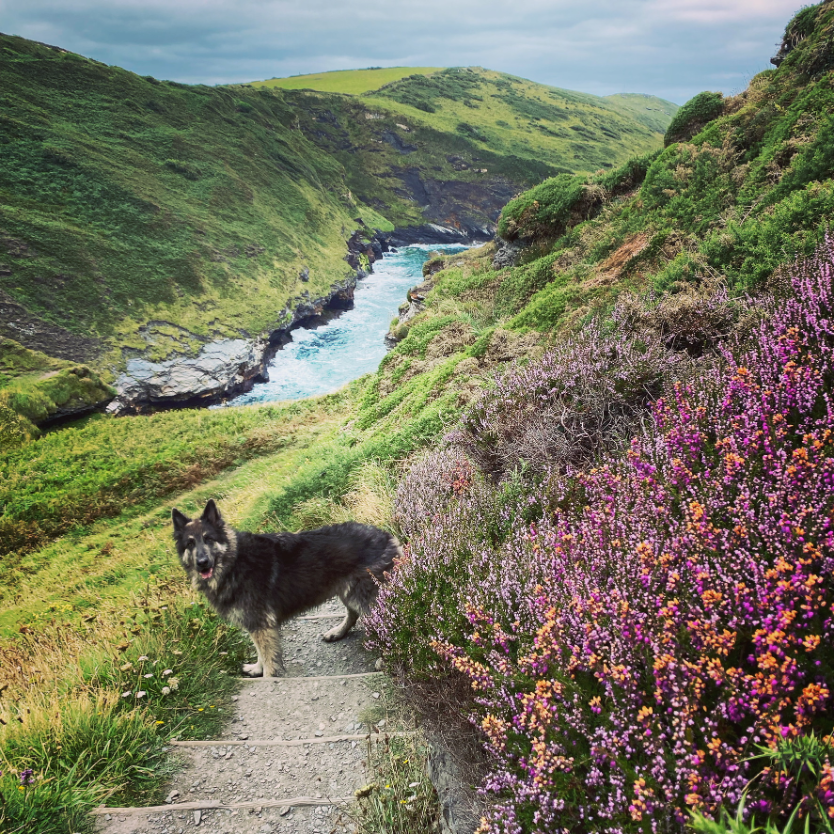 Our traditional cottages at Polrunny Farm are the perfect location for a dog-friendly beach or walking holiday in Cornwall. But don't just take our word for it. In this article, Albus the German Shepherd will explain all...
Previous blogs in this series have introduced you to our Cornish cottages at Polrunny Farm, Boscastle, and have highlighted the mass of things to do in our local area, as well as the best beaches and best walks.
But what about for dogs?
This week's blog barks about how dog-friendly Polrunny Farm is, and tells you why dogs love it in and around Boscastle.
Our Cornish cottages are so dog friendly that, this week, we have decided to invite our first ever guest blogger to take the lead on writing the blog. May we introduce you to Albus, our lazy German Shepherd. (Bear with me on this one…)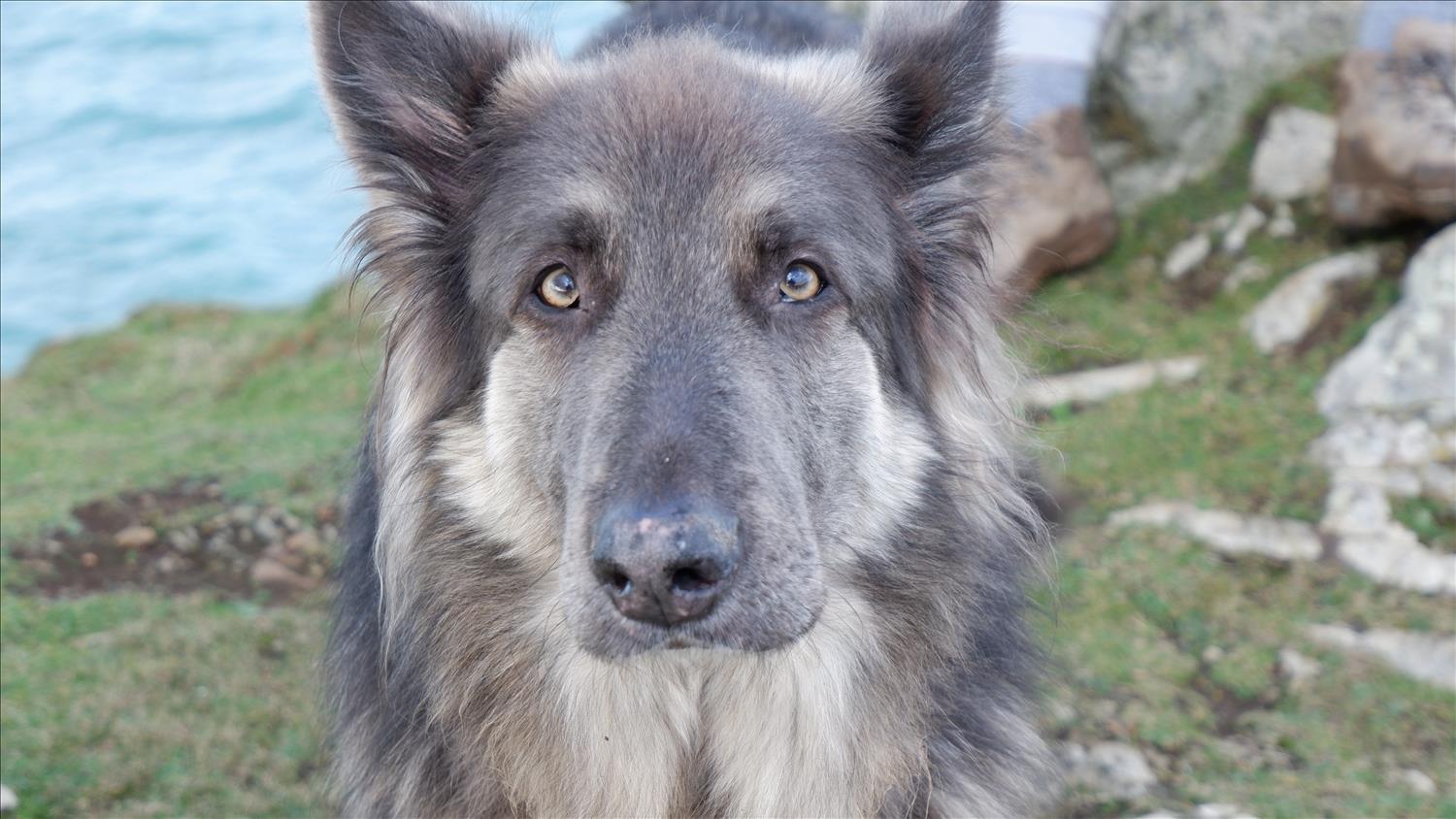 Woof! I mean thanks for the introduction Adam, and hello everyone. I'm Albus Dumbledog, the real owner of Polrunny Farm. That's me in the picture. Yes, my name might be familiar. Some children's author named a character after me, or was I named after him? You'll learn through this blog that details aren't my strong point.
Can I ask you to bear with me too. This is the first blog I have ever written. I'm only seven years old and English isn't my first language. I must have missed the bit in puppy training when they handed out the sausages for putting an apostrophe in the right place.
I'm going to address this blog to your dogs, as, let's be honest, we all know where the real power lies in your household.
So, long-tailed Lucy the Labradoodle, beautiful Bella the Boxer, pampered Princess the Pekingese and mouthy Milly the mutt, 2020 was a stressful year, wasn't it? Your lead carriers have been 'working from home', and all day every day they are disturbing your sleep. We used to look forward to going for walks. Now, with the lead carriers demanding two walks a day (it's for their wellbeing, not yours), quite frankly, we're knackered.
And when they drag us on these route marches, we can't even engage in our usual backside-sniffing rituals in local parks because those same lead-carriers are paranoid about something called social distancing. Social distancing is definitely more of a cat thing than a dog thing.
It's been tough, hasn't it? I get it, you need a holiday.
Well, look no further than our Cornish Cottages. Polrunny Farm will provide you with the perfect four-legged holiday in Cornwall.
The cottages themselves are tale-waggingly good, and their location is the lion's testicles.
"You live there, so you would say that, wouldn't you," points out sceptical Suzie the Shih Tzu.
I hear you Suzie. So many places claim to be dog friendly. And then when you read the small print, you come to realise that their two-legged owners are only tolerating you in the hope of getting a few more bookings.
Don't you just hate those types of places? They often don't let you in the cottage until you've been jet-washed to within an inch of your life. They want you completely dried out before you're allowed in the lounge. If you get on a sofa they'll escort you off the premises before you've had the chance to lick your bits. And woe betide you if you dare to even glance at the bed.
Dog-friendly my flee-ridden backside.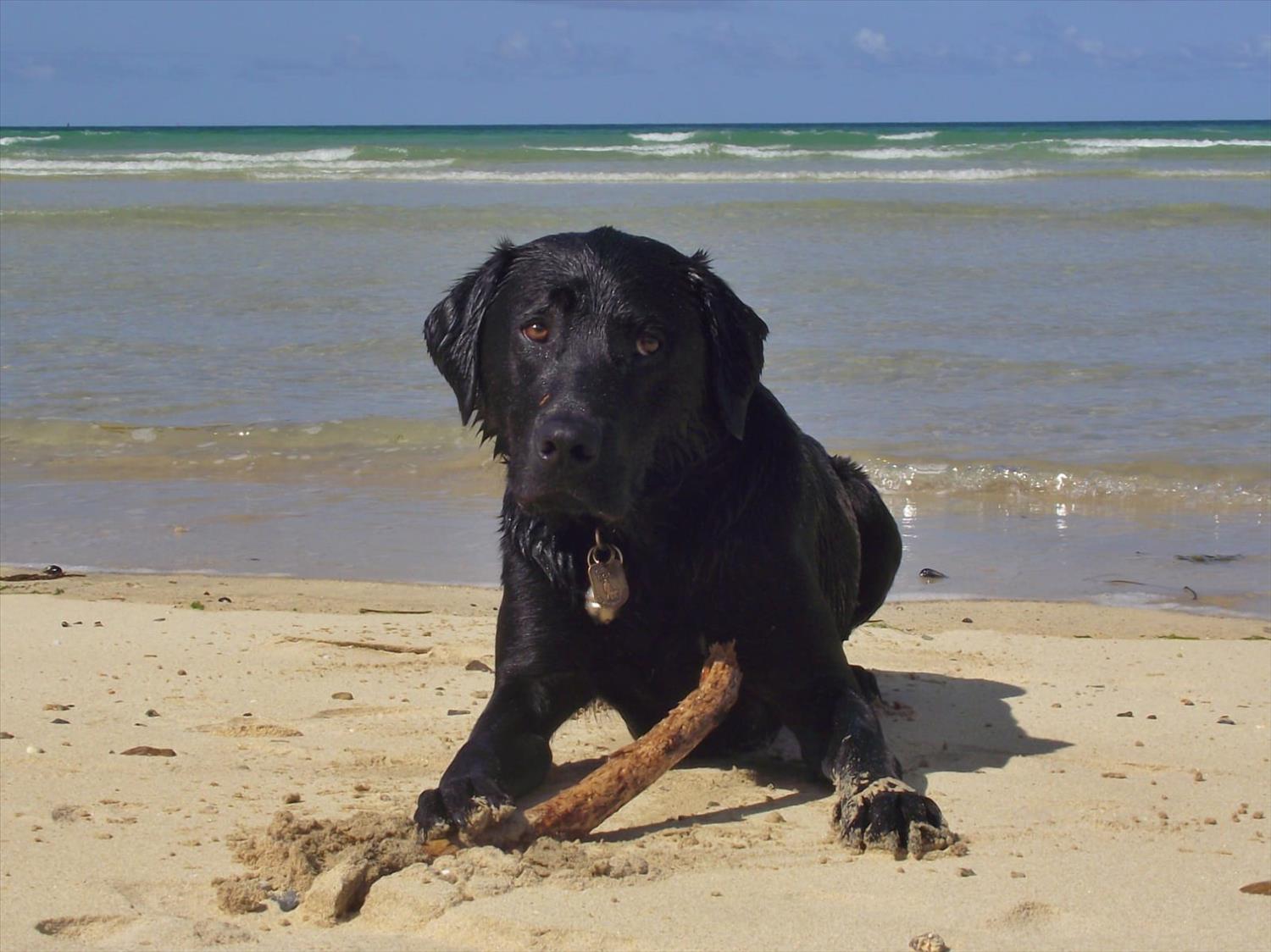 (That's my mate Robson on one of our county's lovely beaches. I don't know how that picture got through the editorial committee. Surely they could have found another one of me?)
Anyway, back to it. Our Cornish Cottages at Polrunny Farm aren't like that at all. If you stay at Polrunny Farm, you get your own dog bed and dog treats (what use is a bottle of local wine or some fancy shampoo to us?). You get a dog bowl to use for the duration of your stay too.
We know that some of you won't be able to resist getting on the sofa when your lead-carrier isn't looking, so Melanie and Adam give you some dog blankets to use while you are with us. If being incarcerated is your thing, Adam and Melanie will even lend you a dog crate.
When it comes to doing our business, your lead-carrier gets some poo bags and there are plenty of places for you to do your thing in private.
"'Doing our business'? You mean having a poo?" asks brusque Brutus the bulldog.
Simmer down Brutus, there's a good chap. I do get your point though, our two-legged friends do use some strange language, don't they? I heard one lead-carrier saying 'Busy, busy' to his dog the other day when he wanted her to pee. I mean, what the actual nonsense is that all about? Although having said that, Adam and Melanie's boys have got me doing a 360 degree spin when they say the word 'penis'. The things us dogs have to do to earn our dinner. Quite frankly it's demasculating.
"Albus, get back on topic please, there's a good doggie."
Growl. While my Shepherd brethren are detecting drugs at border crossings or helping blind people find their way home, I'm being a doggie.
Ho hum, back to the story before I get put in the dog house again.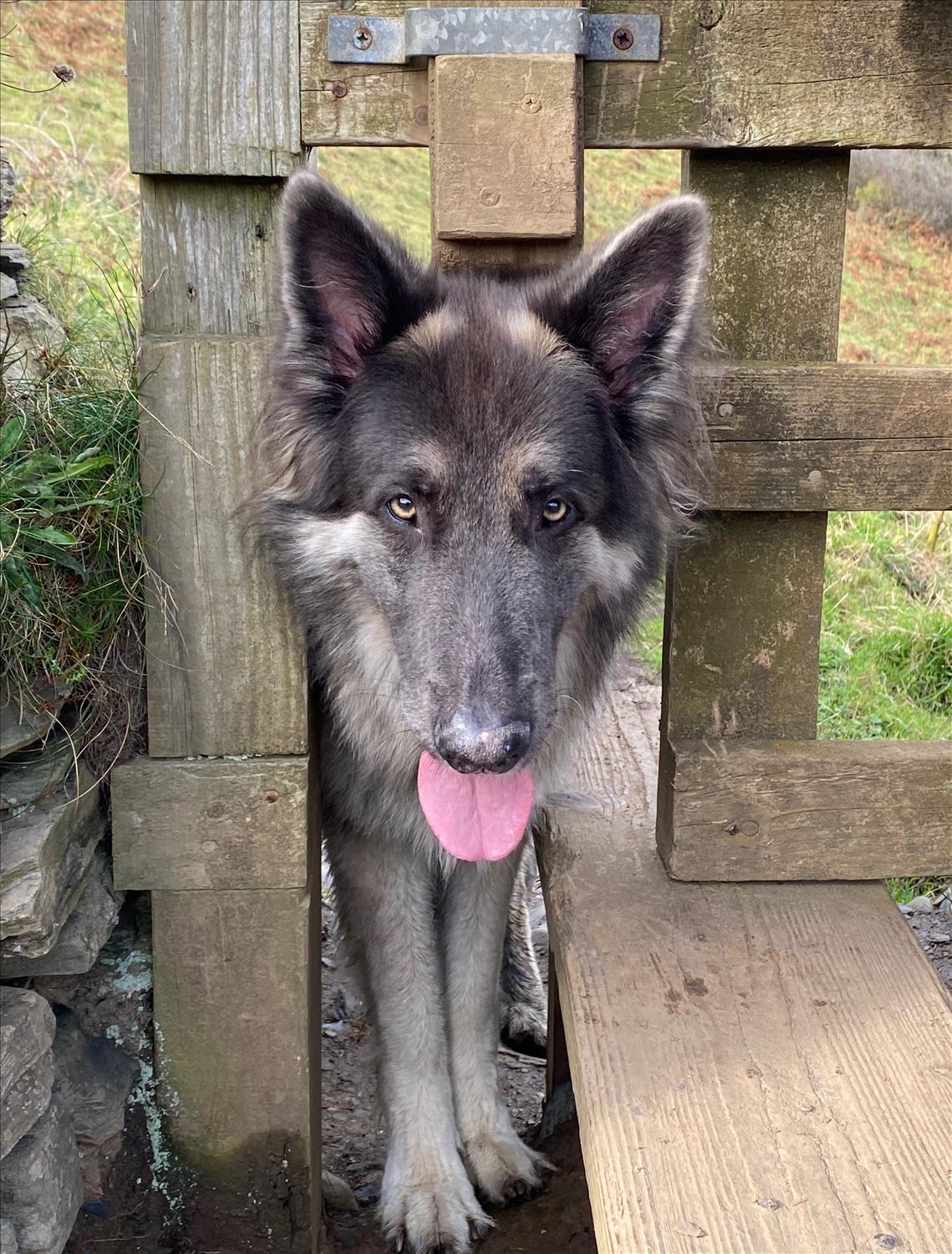 Melanie and Adam want lead-carriers, and more importantly us dogs, to feel at home at our Cornish cottages. Rather than imposing a list of a million do's and don'ts on us all, they are of the view that if you treat lead-holders respectfully, they will respect Polrunny as if it is their own home.
In line with other holiday cottages, Melanie and Adam do charge £25 extra per dog for us to stay at Polrunny, and you do have to stay on a lead in places because of the pesky sheep, but you get what you pay for. The benefits absolutely do outweigh the cost.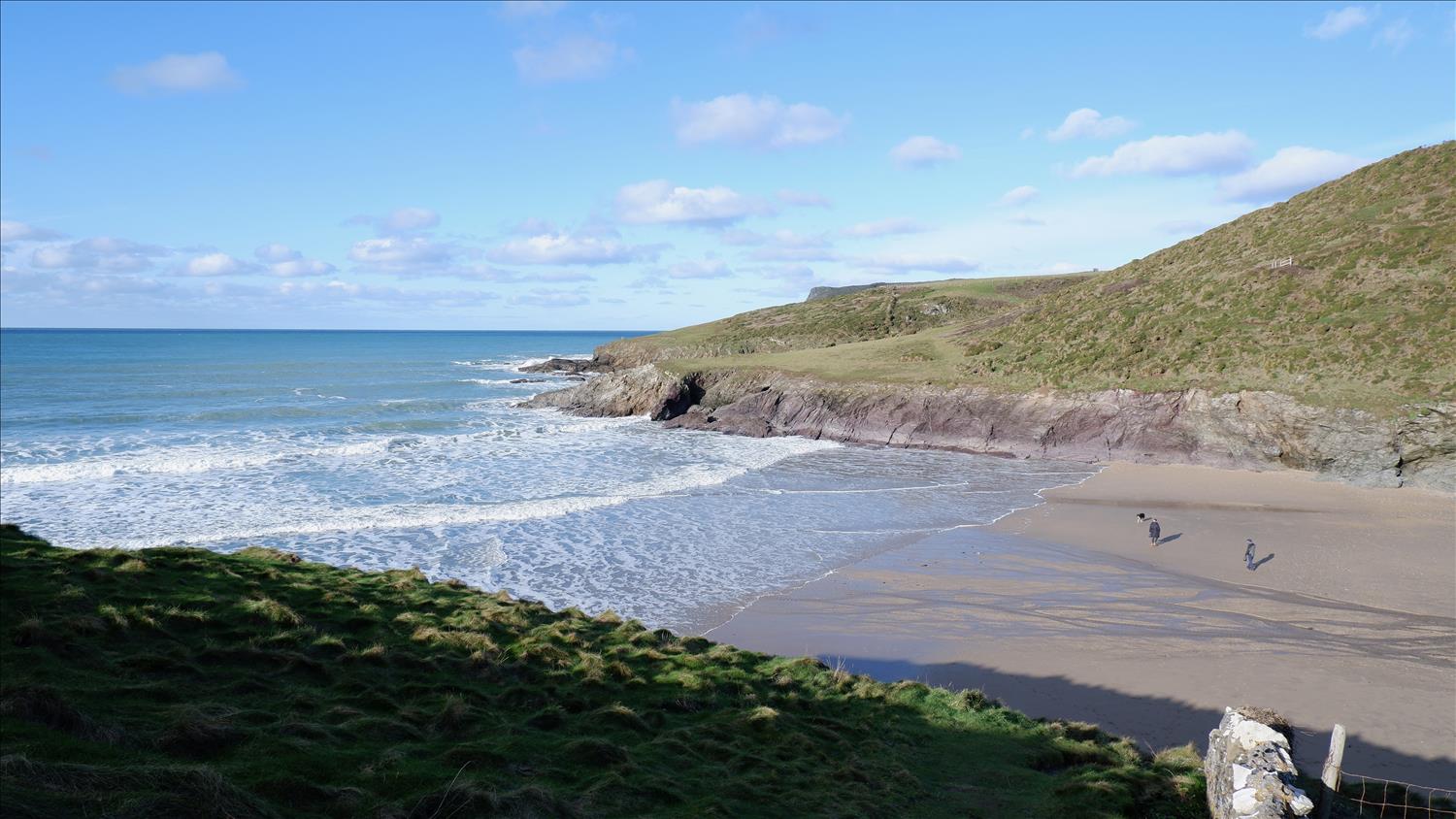 "OK, so your Cornish cottages are great," comments doubtful Duke the Dalmatian, "but will we like the area they are in?"
Of course you will, doubtful Duke. The dog-friendly beaches near our Boscastle home are the stuff of dreams. (You know those dreams when you are wobbling your back legs, moaning to yourself, thinking of open sand, digging, swimming, eating seaweed and generally making as much noise as you like without being told off…)
There are beaches like Bossiney Cove and The Strangles. You'll love these as you can charge straight down slopes onto the beach whilst your lead-carrier will be having kittens / a heart attack (both equally undesirable) whilst walking down stepped paths. These two beaches have great rock-pools and the chance of finding a dead fish or two to eat when your meal tickets aren't looking. Bossiney and The Strangles are properly scenic too if you care about that sort of thing.

"I want real adventures on my beaches," demands fierce Fido the Fila Brasileiro.
A long way from home, aren't you fierce Fido? The beaches near Boscastle are a little different from the Copacabana but if you like frolicking in the waves whilst your adventure-loving two-legged friends are surfing, you'll be in your happy place on the southern beach at Widemouth Bay, at Trebarwith Strand, at Watergate Bay, at most of the 'seven bays' from Padstow round to Mawgan Porth and at Fistral Beach, Newquay, all of which are dog-friendly and properly sandy.
"But I don't like cliffs or waves," sniffs dainty Daisy the dachshund.
Well, then there's Daymer Bay and Rock beaches for you, sausage. If you could stop preening yourself for five minutes and actually bother to get out of your meal ticket's arms, I reckon you'd love the sand dunes that run behind these two beaches.
"But one doesn't like sand," cries cutie Coco the Corgi, "why should one want to go to your Cornish cottages?"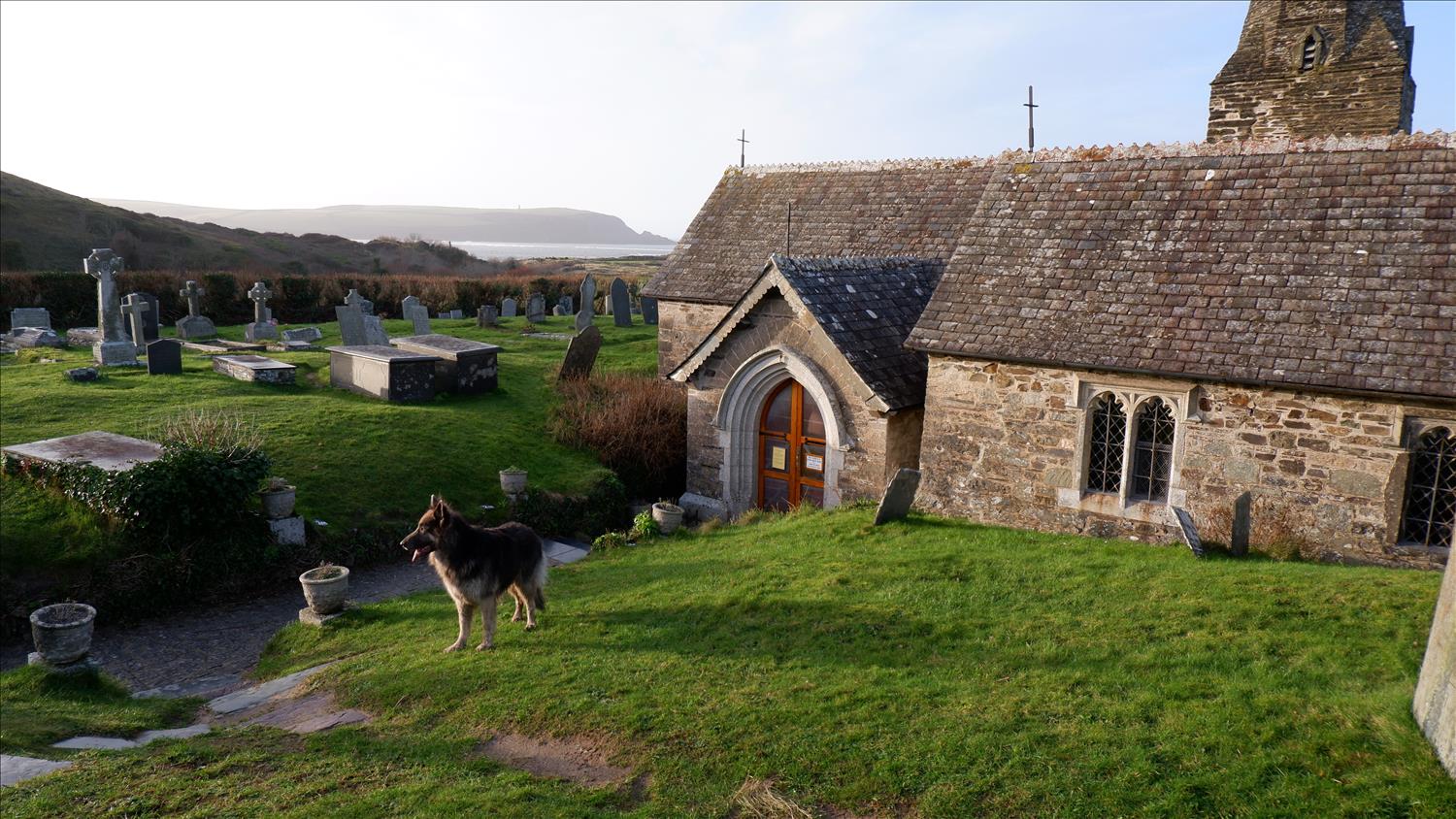 Coco, you can be a pain in the butt sometimes. But don't panic, there are plenty of walks for you too. You could explore Cornwall's world-famous coastal path, walking north east towards Crackington Haven and Widemouth Bay, or south west towards Bossiney, Tintagel and even Trebarwith.
You are allowed in to Tintagel Castle too, which I'm sure will be of interest to you as you love your royalty.
By the way, the above picture is of St Enodoc Church on the Camel Estuary which is on the SW Coast Path..
"But there are too many hills on a coastal path," I hear layabout Lola the fat labrador grumbling.

Lola, there are flat walks for you to enjoy too. You can potter through the Valency Valley that runs into Boscastle, dipping your feet in the river if you can be bothered. And if you're really lucky, you'll stumble across a picnic or two to interrupt. I know how much you labs like that sort of thing.
"I get bored with walks," mutters Pepper the Pug. At least I think that's what she said.
A dog that doesn't like walks? Whatever next, a lead-carrier not liking getting up at the crack of dawn to let us out of the back door?
Anyway, have no fear Pepper, there are plenty of extra-curricular activities we can get up to whilst staying at Polrunny Farm. Lots of attractions in Cornwall let us in. I can't say it was my favourite thing in the world, but I went on a steam train last year at Lappa Valley. Adam and Melanie tried to make me sit on the floor but I wasn't having any of it.
You can even go to the Eden Project if you like, although apparently there are some boring bits there that we aren't allowed to explore.
"What about in the evenings," asks Winston the West Highland Terrier, "I love a good pub meal. And maybe a boogie afterwards."
Well Winston, I've got four left feet so I'm not sure about the dancing, but I love a pub meal as much as the next dog. I can tell you that the chips at the Napoleon Inn, my local, are to die for, and the Wellie down in the village does a great steak. Or there's Sharon's Place, oh I'm drooling at the thought of it!
So there you have it. All in all, my four-legged friends, our Cornish cottages at Polrunny Farm are the perfect destination for your next holiday.
And as an added bonus, so long as they are well behaved and house trained, we even allow the odd human to accompany you too.
Albus Dumbledog.
German Shepherd.
Available for all sorts of writing commissions - please contact my agent for details...
Uhum, thanks Albus. I think.
If you would still like to know more about Polrunny Farm's dog-friendly cottages; if you would like to check availability and rates; or if you would like to book online with us, then click the below button.
To make sure you always keep up to date with new blog posts, and more importantly to get access to exclusive online offers and competitions, all you need to do is join our Polrunny Farm Email Club.