Our Cornwall Blog: Best beaches near Boscastle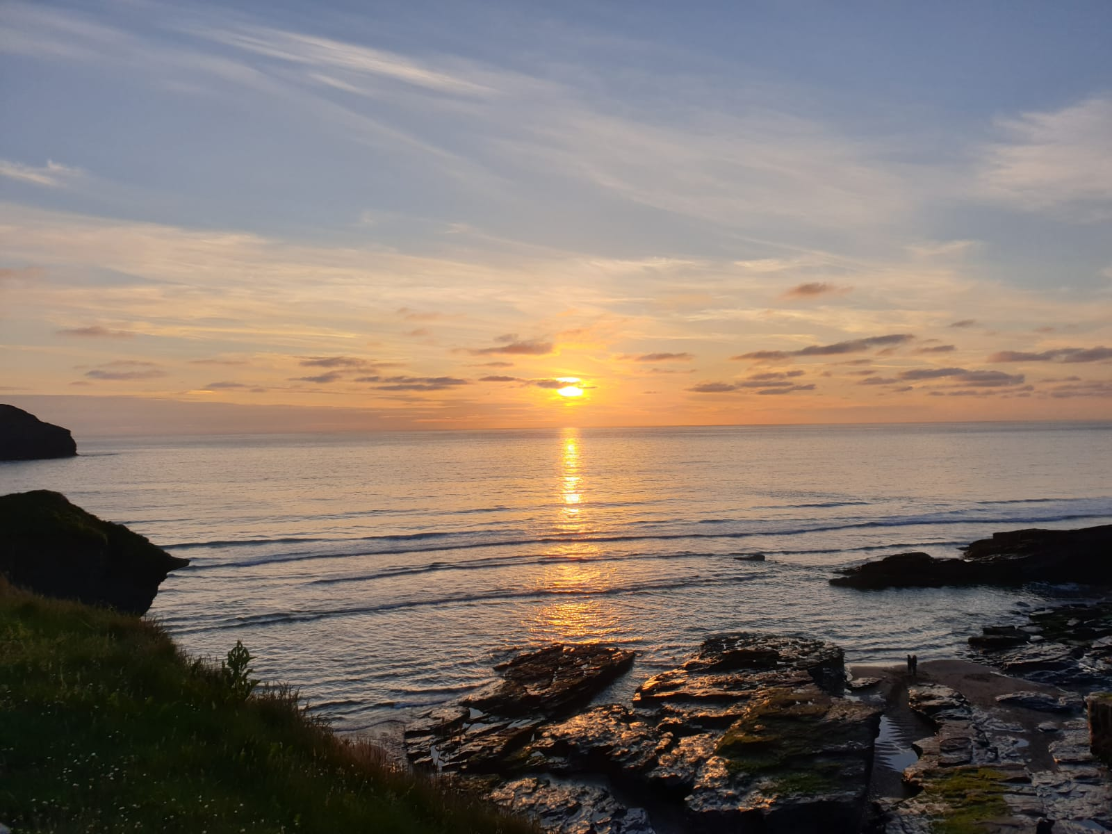 With more than 300 stunning bays and coves in our fantastic county to choose from, life's a beach when you're holidaying in Cornwall. This article highlights North Cornwall's best beaches for surfers; best beaches for families; and best dog-friendly beaches. All of the fantastic beaches mentioned are easily accessible from Polrunny Farm, the home of our traditional Cornish holiday cottages.
Beaches might not be the centrepiece of everyone's holiday in Cornwall, but we all love something about the seaside, don't we?
For the surfers and swimmers amongst us it's the waves; for the crabbers and paddlers it's the rock pools; and for the junior castle builders it's the sand. For those that enjoy the sheer power of nature, it's the physical force of the waves as they thunder against the rocks. For Melanie and me, it's the feel of virgin sand on the souls of our feet as the tide makes its daily retreat towards the horizon.
With more than 300 stunning bays and coves in our fantastic county to choose from, life's a beach when you're holidaying in Cornwall.
But Cornwall's a big place, and each of the 300 plus beaches has its own distinct character. Which begs the question, where in Cornwall should you stay to enable you to access the beaches that will best meet your needs?
Those of you that are familiar with this blog will not be surprised when I tell you that you should base yourselves in the picturesque and characterful village of Boscastle on the north Cornish Atlantic coast.
I'll put the usual disclaimer in at this point. Our Cornish Cottages at Polrunny Farm are located in the hills above Boscastle. So yes, we are biased when we urge you to stay in Boscastle, but being biased doesn't mean we are wrong. Adam Peaty's mum thinks he's the best breaststroke swimmer in the world. She's biased but she's not wrong.
This blog post will show you why Polrunny Farm is the best place to base yourself if you love anything about beaches. It will do this by giving you a bit more information about the beaches mentioned in the below image.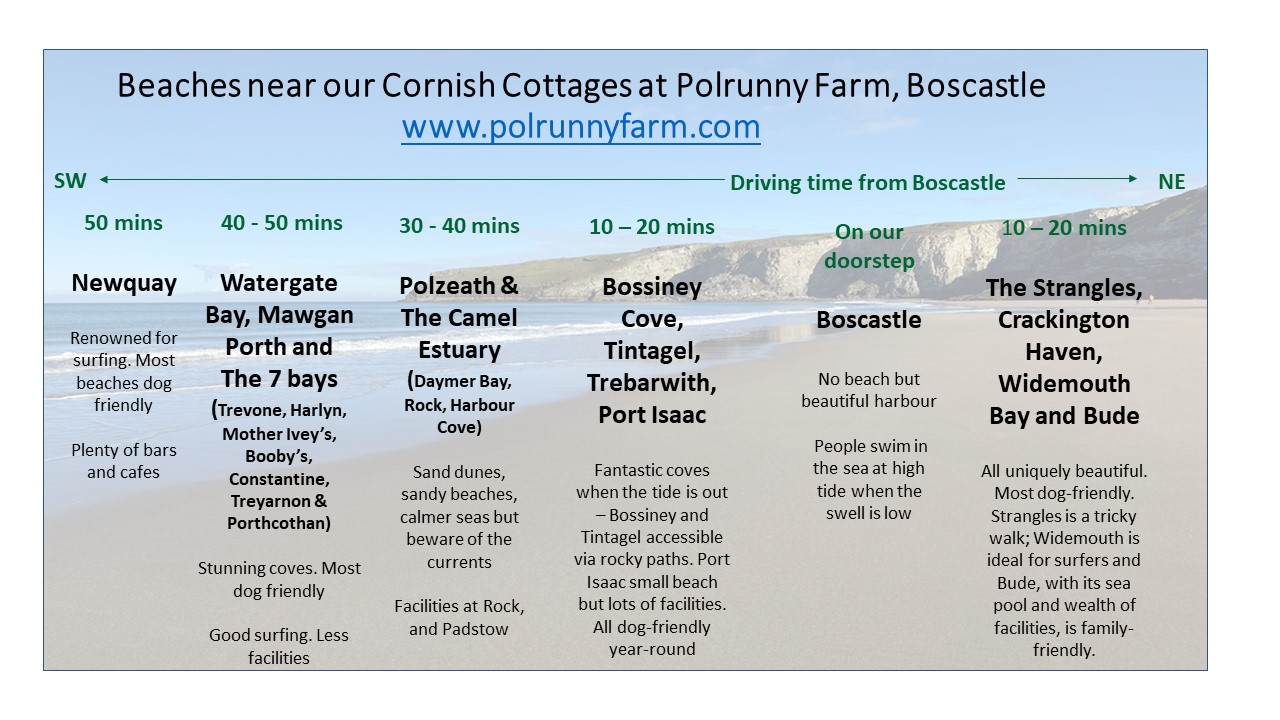 Before we get started, I should say a couple of things about the image. Firstly, it shows you quite clearly why I am in the holiday cottage business rather than the graphic design business. Please accept my heartfelt apologies for the quality of the graphic.
Secondly, for the sake of accuracy, I need to point out that the travel times shown on the above reflect the time it took us to travel to these beaches when we were researching this post. That was in late September / early October. In peak season, journeys may well take a bit longer.
Right, that's the small print out of the way. Let's get to the detail. I'll start our tour of North Cornwall's Atlantic Coast beaches by travelling south west from Boscastle. I'll focus more on the beaches nearest to Boscastle, and then I'll give you a flavour of the beaches that are slightly further south west.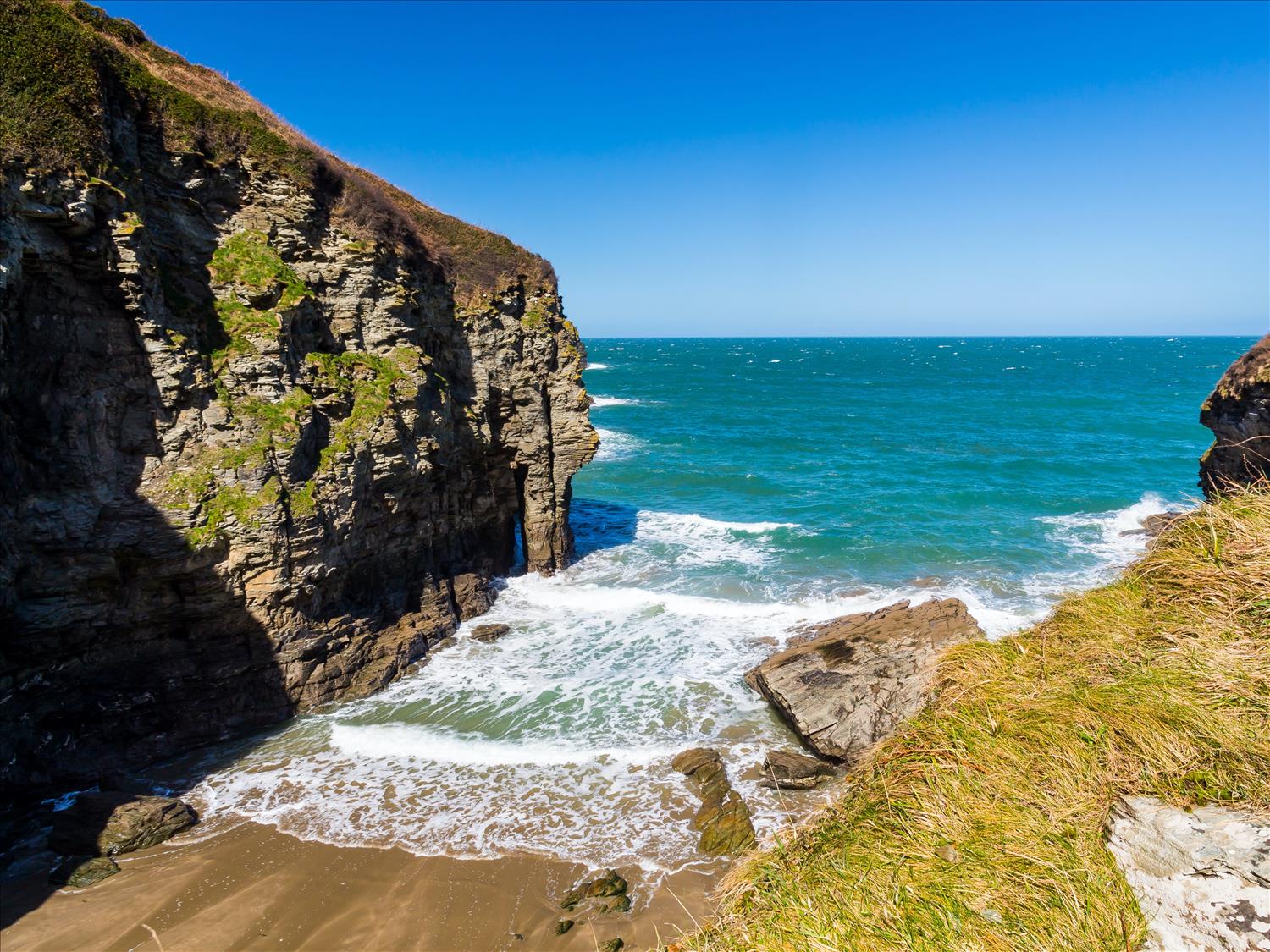 How you travel to our first beaches, Bossiney Cove and Tintagel, is up to you. You could drive. You could catch the No.95 bus, or, if you are feeling energetic, you could walk the four miles along the coast from Boscastle harbour to Bossiney and the further mile to Tintagel. The walk takes you along one of the most spectacular stretches of coastal path you will find anywhere in the world. It is hilly though, so you should only let your legs take the strain if you are up for a challenge.
Bossiney Cove isn't one of those places you come across by chance in the car. It's a real hidden gem. Hidden because a) you can't see it from the road, and b) if you get there at high tide, the sea will have consumed it. Make sure you consult the tide times before you go.
Bossiney is an atmospheric sandy cove surrounded by imposing cliffs. It's so attractive that seals often pay it a visit. Its' unique selling point is a huge cave you will feel compelled to explore. Those with a phone with a decent light will love travelling deep into this dramatic complex of caverns.
The path to Bossiney Cove has been closed for the last year or so, but you can still reach this beach via another tricky path, at Benoath beach which joins Bossiney at low tide.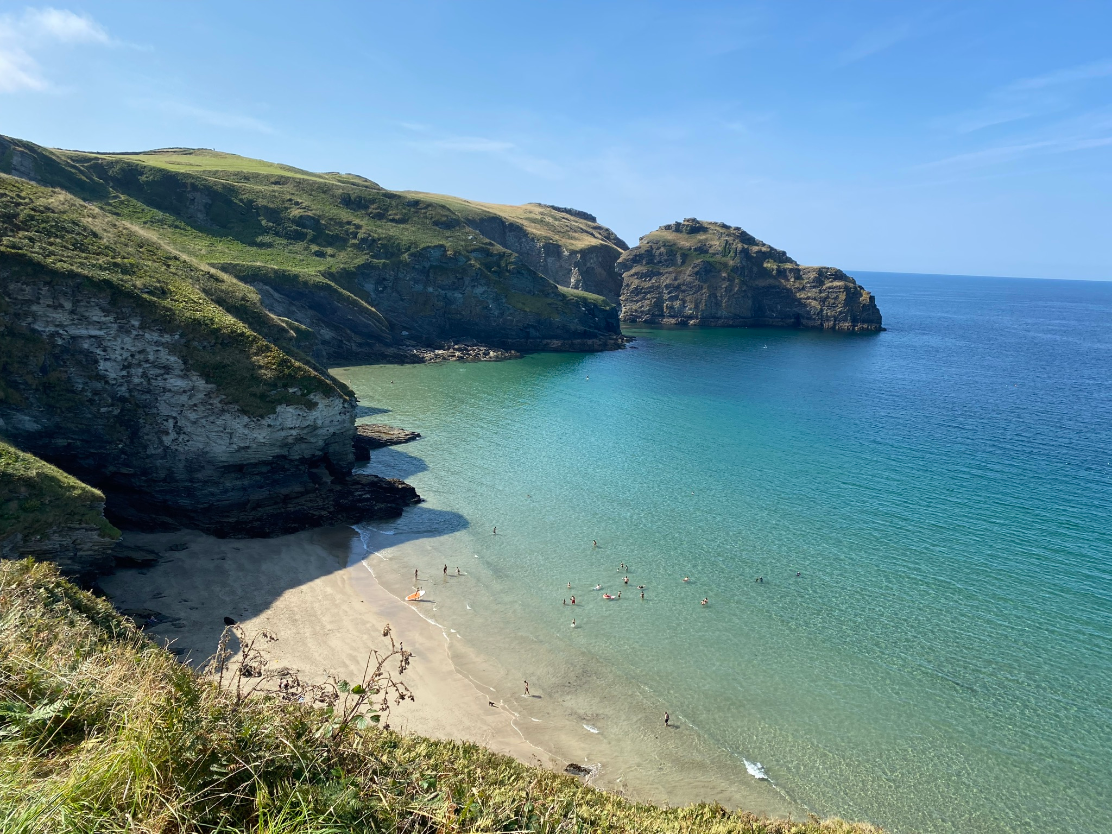 Like Bossiney, Tintagel beach disappears entirely at high tide. As well as boasting its own waterfall onto the beach, Tintagel also lays claim to its own cave. 'Merlin's Cave' is a 300-foot tunnel that passes under Tintagel island and castle. If you are heading to Tintagel, why not make a day of it and pay the entry fee to the castle. The walk along the bridge to the island is worth the admission price on its own.
Neither Bossiney nor Tintagel beaches are suitable for those with mobility issues, those with bad hangovers or those that get fed up when they have to work for life's pleasures. Bossiney is accessed via a short walk across a marked track followed by a descent down an occasionally steep stepped path. Tintagel has a similar path down to the beach as shown in the above photo, with the further challenge of having to navigate some bulky and angular rocks to get to the sand. But if you are up for the challenge, I would urge you to go for it as the journey is part of the adventure!
If you are looking for refreshments on your visit to Bossiney or Tintagel, then there are plenty of places in Tintagel where you can enjoy a pasty, a scone or something more substantial. Or if you fancy a lunchtime drink, why not try a pint of Tintagel brewery's 'Merlin's Muddle' or 'Arthur's Ale' in one of the local hostelries.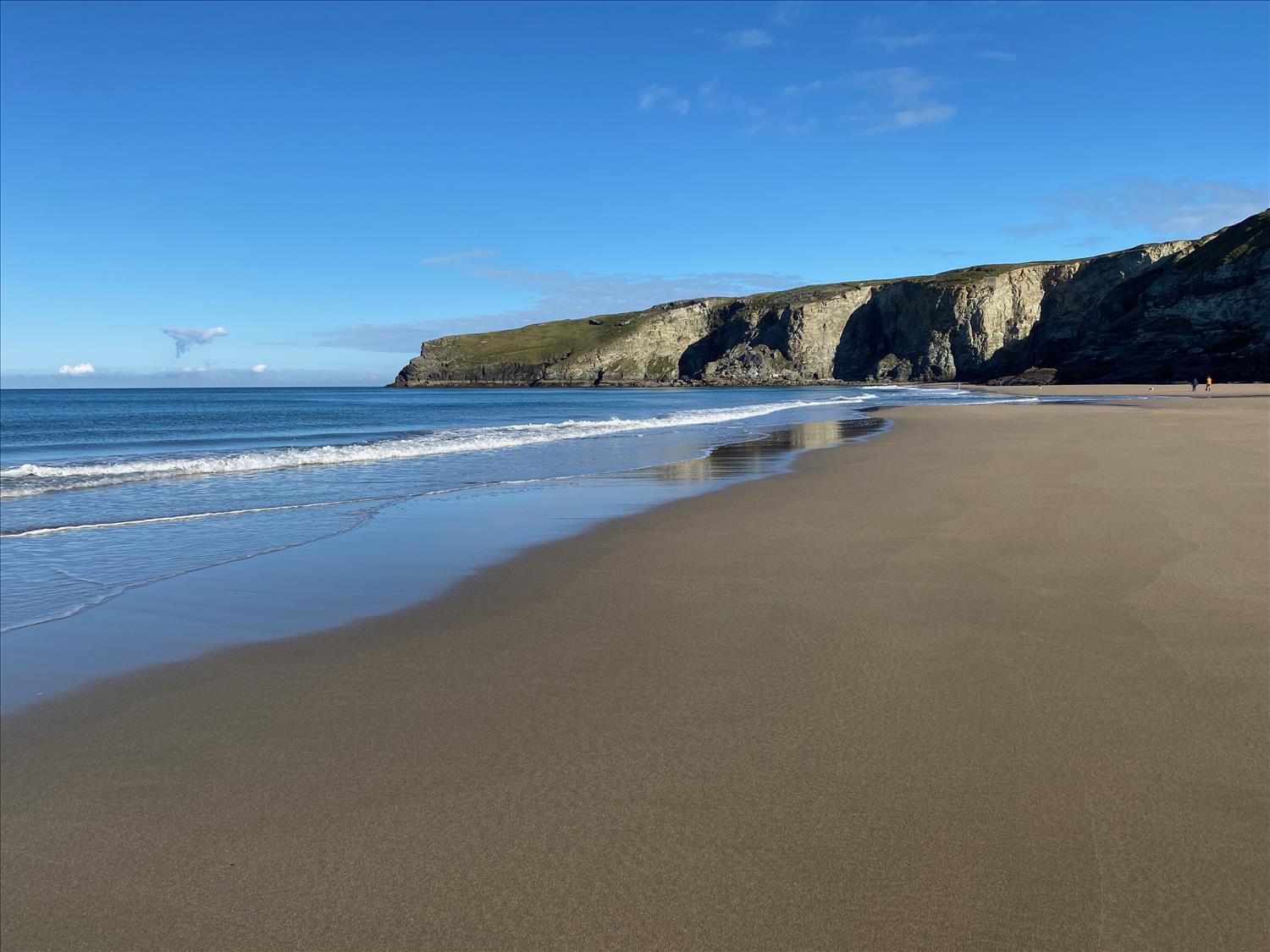 Right, moving on, the next beach worthy of note, and this one is a stunner, is Trebarwith Strand. Those with a particularly strong walking fetish could amble the further 2 miles from Tintagel to Trebarwith. Most of you will probably drive though.
Trebarwith is a fantastic beach that sits at the head of a deep valley. It's another of those beaches that totally disappears at high tide, but at low tide you can walk for nearly a kilometre along golden sands from one side of the valley cliffs to the other.
With freshwater gullies and rock pools to explore, with lifeguards to supervise swimming and surfing, with snack and beach shops, and with the Port William pub overlooking the beach, what's not to love about this family friendly beach.
Moving further south west from Trebarwith, If you are still walking the coastal path, and if the tide hasn't come in yet, after some steep ups and downs, you will stumble across Tregardoch beach. This normally deserted stretch of sand and rock is as spectacular as any other.
If this was a book, I would have the space to write about every secluded inlet along this spectacular stretch of coastline. But it's only a blog post so let's move on to Port Isaac.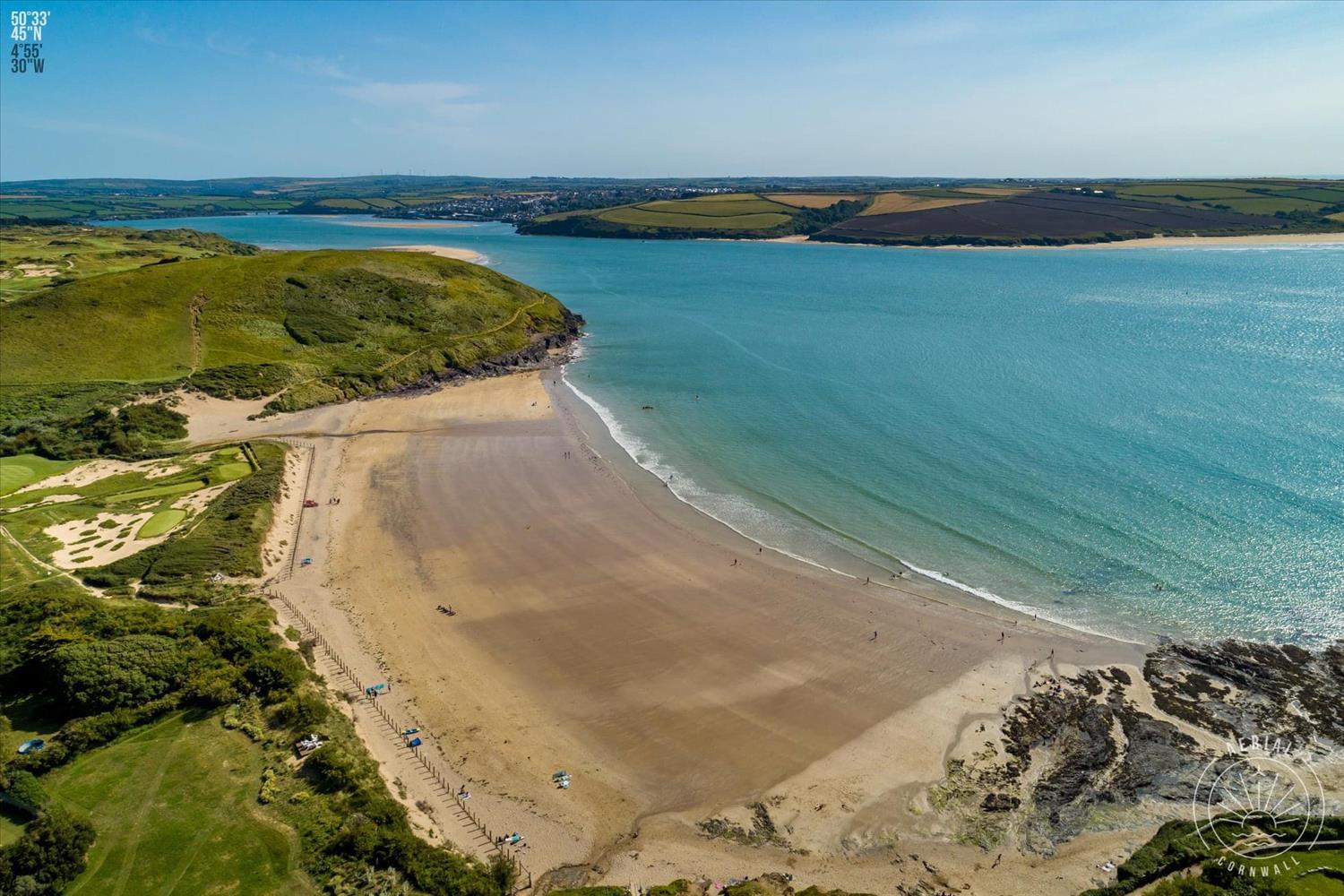 To those that watched the popular ITV series Doc Martin, Port Isaac won't need much introduction. This wow-factor harbour town, with its houses rising into the surrounding hillside, is undoubtedly more stunning than Padstow, its noisier neighbour. With Nathan Outlaw as its champion, Port Isaac can rival Padstow in the foodie stakes (or should that be steaks) too. This quaint fishing village has some decent shopping too if you like that sort of thing.
The beach at Port Isaac is small and runs into the working harbour. But it is sandy and sheltered and absolutely makes for an interesting place for families to hang out.
Moving further south west, just before you get to the Camel Estuary, you will find Polzeath beach and its little sister New Polzeath beach - the former a surfer's playground, the latter more oriented towards swimmers.
The beaches in the estuary – Daymer Bay (see image above), Rock and Harbour Cove are all lovely natural sandy enclaves. With sand dunes providing some shelter and with waves likely to be smaller than those beaches that look out onto the open sea, these beaches are ideally suited for young families. Those with deep pockets often hop on the ferry to Padstow and do lunch in Rick Stein's figurative backyard.
If you continue travelling south west after crossing the River Camel, you will come to the 'seven bays'. Each one of these inlets is beautiful, in its own right, as is the walk along the cliff path between them. Whilst most of the seven bays are a surfer's wet dream, my personal favourite, because it is slightly more sheltered, is the secluded Mother Ivey's Bay.
Not all of the seven bays have facilities, so if you are wanting lunch during your day at the beach, I would suggest that you do a bit of googling before you choose your bay. Or you could do as we did and stumble across The Pig hotel at Harlyn Bay and enjoy an extravagant al fresco lunch.
Further to the south west lies Mawgan Porth, Watergate Bay and then Newquay. With the world famous Fistral Beach at its heart, Newquay is the undisputed surfing capital of England. If there are any surfer dudes in your party, then Newquay is definitely worth a visit.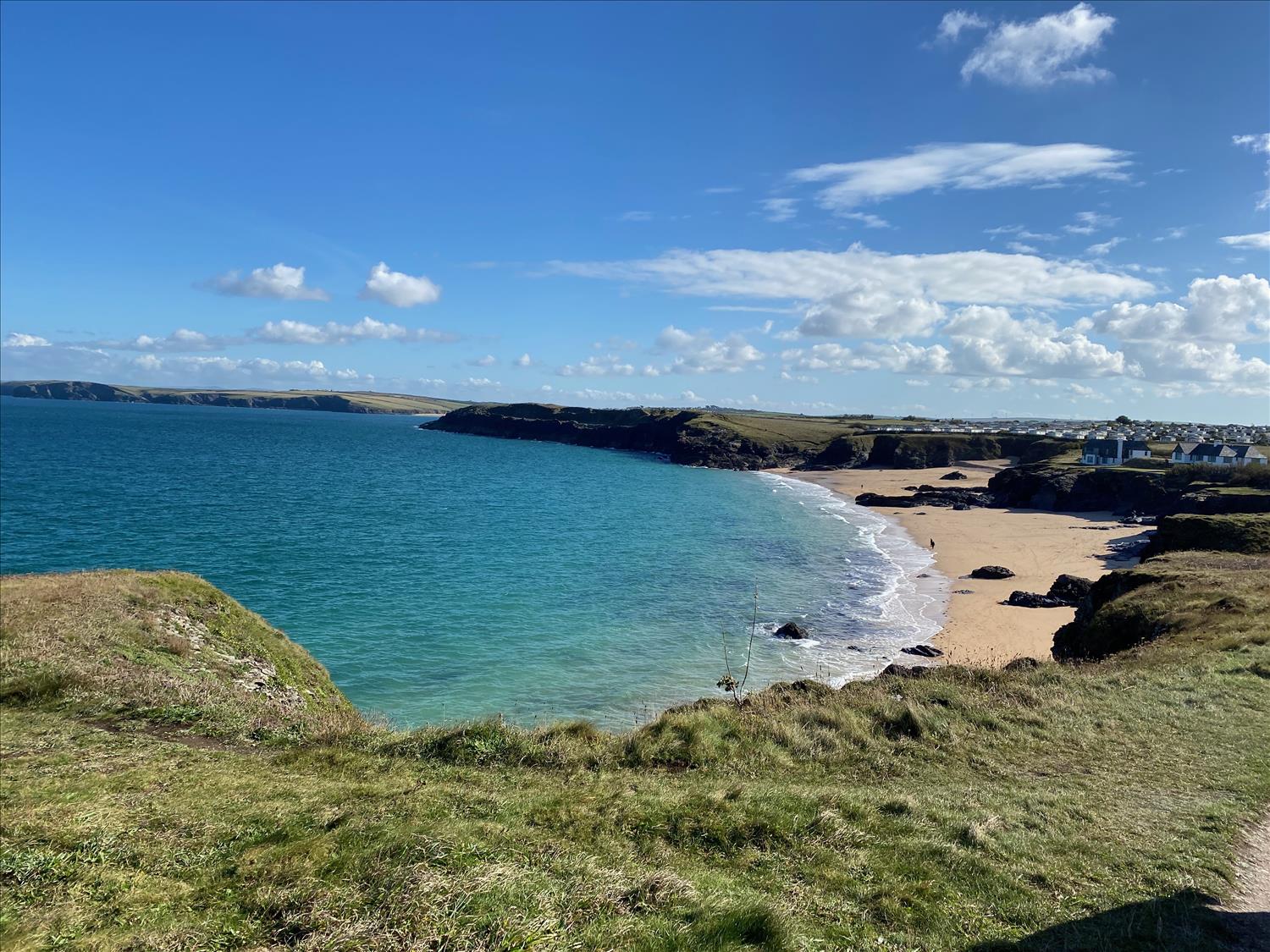 Right, let's get back to Boscastle and head north east now.
You will recall me telling you that Boscastle is located within one of the most spectacular stretches of coastline you will ever have the pleasure of visiting. The sixteen mile stretch of coastal path from the harbour to Bude takes you past some breath-taking scenery, including the highest cliff in Cornwall (called High Cliff – not sure why), and The Strangles, Crackington Haven and Widemouth Bay beaches.
It's about a five-mile hike from Boscastle to The Strangles. At low tide, The Strangles is a devastatingly stunning shingle and sandy cove reached via a fairly treacherous cliff descent. The inaccessibility of this beach means that even in the height of summer you will get some peace and quiet at The Strangles. But with no facilities and no lifeguards present, this beach isn't for everyone.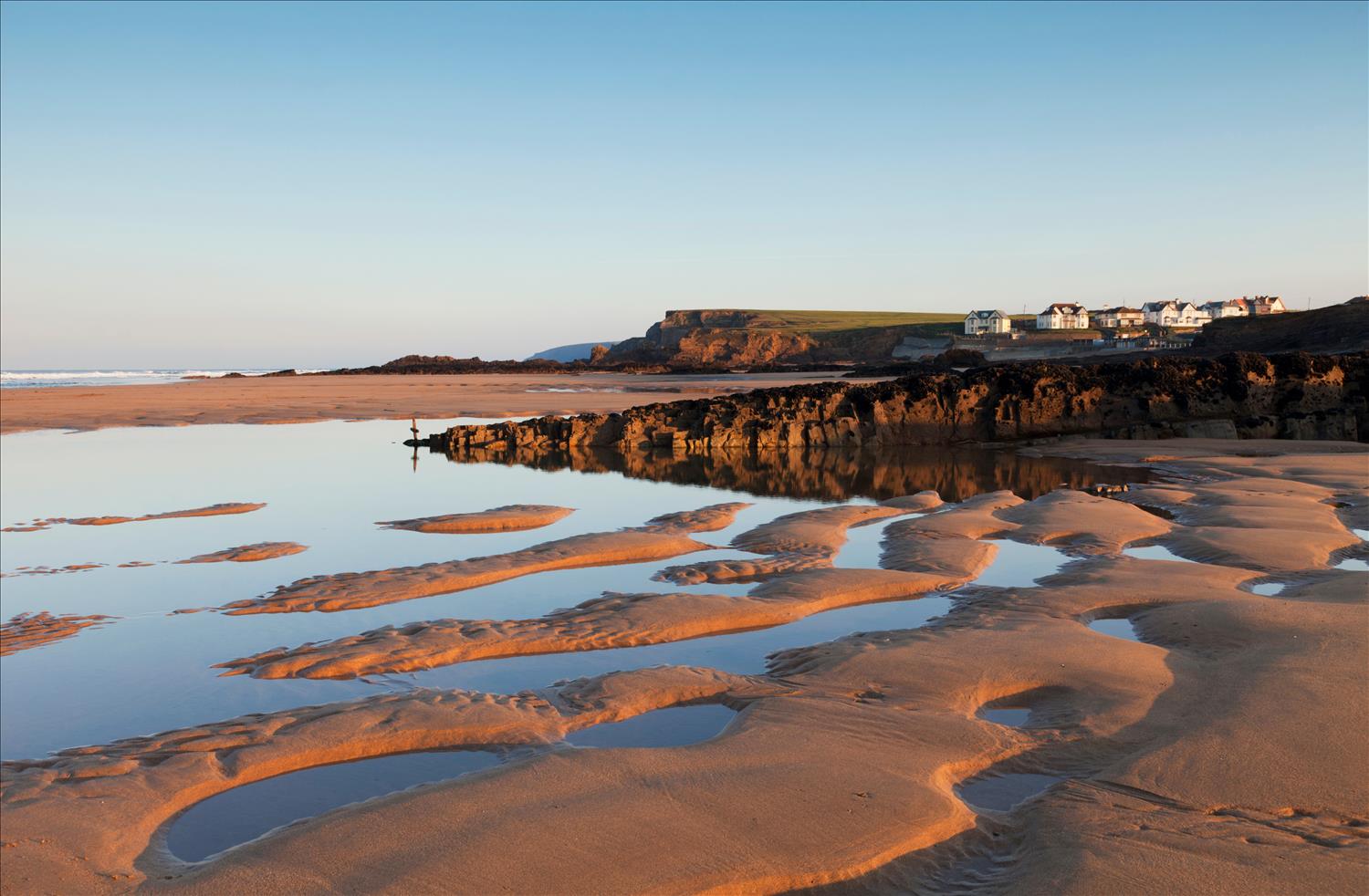 Walk a couple more miles along the coastal path or drive a couple more minutes down Cornwall's backroads and you will come to Crackington Haven. Crackington is a more accessible, albeit fairly stony beach with sand at low tide, loved by surfers, bodyboarders and those that simply splash about in the waves. A good café and pub to retreat to if the heavens open are added points in Crackington's favour.
Widemouth Bay beach is a few miles further on. This two-mile expanse of golden sand faces pretty much due west. Because Widemouth Bay is exposed to the full force of the Atlantic Ocean, many of Cornwall's hardcore surfers make this beach their playground and several surf schools are based there.
Widemouth Bay is also popular with families in the summer months, due in part to the quality and size of the beach and also to the availability of parking and cafes. The southern half of Widemouth is dog friendly.
The final resort I want to mention is Bude. Assuming that you aren't up for walking the 16 miles along the coastal path from Boscastle, this popular destination is less than a half hour drive from our Cornish cottages at Polrunny Farm.

Bude possesses several beaches, each one different from the others. The most popular is Summerleaze (see the above photo), a huge expanse of sand popular with surfers and families alike. Those of you that love to swim will appreciate Bude's famous tidal pool, a fantastic place to get the arms and legs moving and to work off the excess food and drink consumed the night before.
Bude the resort contains everything you would expect from a seaside resort – food, drink and yes, even a bit of tacky entertainment – tacky for us, great fun for the kids!
There you have it. This whistle-stop tour of nature's finest Cornish Atlantic coast beaches has run its course. I hope that I have convinced you that, from Watergate to Widemouth, from Constantine to Crackington, and from Booby's to Bude, North Cornwall's Atlantic coast, with Boscastle at its heart, has some of the finest beaches you could ever wish to see.
If you have a question on any of North Cornwall's fantastic beaches, Melanie and I would be delighted to hear from you.
If you would like to know more about Polrunny Farm and its traditional Cornish cottages; if you would like to check availability and rates; or if you would like to book online with us, then click the below button.
To stay up to date with new blog posts, and more importantly to ensure that you are one of the first to hear about new offers and competitions run by Polrunny Farm, all you need to do is join our Polrunny Farm Email Club.